Recipe Taste
Not Specified
Yield / Serves
6 Servings
A delicious Italian bread that can be served in its own or with just some soup to go along.
For preparing the yeast : Milk - 1 cup + 1/3 rd cup
Active dry yeast - 1.75 tsp
For the bread dough : Flour (maida) - 3.25 cup
For the topping : Olive oil - 1/4 th cup
Fresh parsley - 1/4 th cup
Now mix the yeast mix with olive oil and pour into the Maida & salt.
Knead a soft dough and roll it so that it fits a 9 inch by 12 inch, baking tray.
Place this dough into the greased baking tray and leave it to rise or proof for 1.5 - 2 hrs in a warm environment.
Once the dough rises, make small dents into the dough. Pour the flavoured olive oil all over the dough evenly and place chopped olives.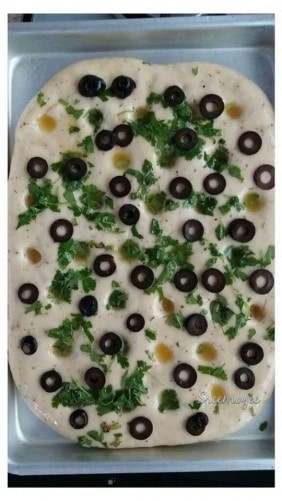 Bake this at 200 degree Celsius, in a preheated oven for 20 minutes.
Meanwhile for the topping, heat the olive oil and add the chopped parsley and rosemary. Switch off the flame and leave it to cool. This will allow the oil to absorb all the flavours.
How useful was this post?
Click on a star to rate it!
Rated 4 based on 3 votes
Be the first to rate this post.