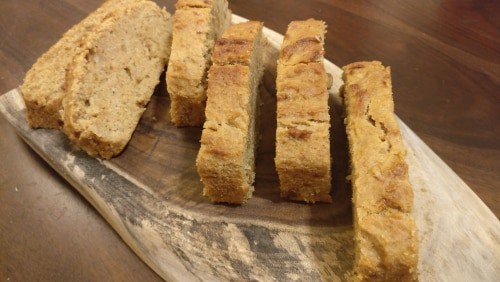 Eggless Banana Cake
31 May, 2017
Baking Banana Cake is therapeutic as this recipe is healthy, quick and easy. Use of whole wheat makes it healthier as you will completely avoid All-purpose flour. If you get stuck after seeing the over ripened Bananas and never want to waste food by throwing it. This Recipe is the rescue and best use of leftover bananas. Give a crunch by adding walnuts or some seeds like sunflower seeds or melon seeds which are super foods and should be included in your diet. This is a Kids- friendly tiffin recipe which you can send in your child's lunchbox without any guilt.
Ingredients
Over-Ripened medium sized Bananas - 4

Whole Wheat Flour/ Atta - 1.5 Cups

1 Cup = 250 ml

Jaggery 1/2 Cup

Regular White Sugar or Brown Sugar can also be used

Cooking Oil - 2/3 Cup

Rice Bran oil or sunflower Oil as it has neutral taste

Chopped Walnut Kernels - 1/4 Cup

Optional - Sunflower Seeds

Baking Powder 1 tsp

Baking Soda 1/2 tsp

Vanilla extract 1 tsp

Pinch

of Himalayan Pink Salt

Regular salt can be used
Instructions
Set Over to Preheat for 180 degree C meanwhile Peel and mash the over -ripened bananas so that it forms a nice smooth paste with help of a fork or blender or Potato Masher.

Add Jaggary ( Sieve it to avoid lumps), Pour oil and drop the vanilla extract. Stir it with the spoon or egg beater.Let it become a smooth paste and all the ingredients are mixed well.

Keep these wet ingredients aside and now its time to work on dry ingredients.Sieve Wheat flour to avoid lumps if any, Put the pinch of salt, Baking powder and baking soda and give it a stir once or twice.

Put in the dry ingredients into the wet ingredient bowl and start folding it in the circular motion gently. Do not over do it by doing it fast.

Add chopped walnuts or the seeds of your choice or any other dry fruits. Walnuts are classic and traditional add-on for this recipe so go for it.

Grease the 9-inch regular baking pan with some oil and pour in the batter. Tap it few times.

Let it bake for 25 minutes and then check it by pricking it with the tooth-pick. let it stand in the oven for few more minutes.

Take out the Cake and serve it during Tea -time.
Notes
This Recipe has been shared by Kirti Yadav, Co-founder of Plattershare, who is also a die-hard foodie and Home Chef.