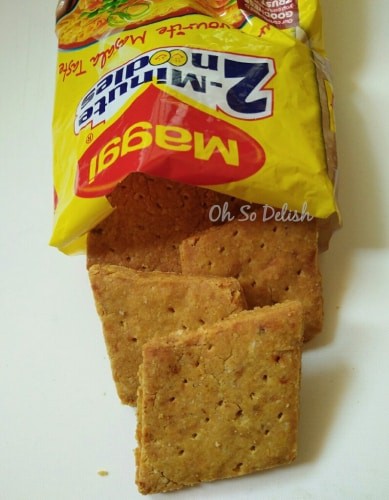 Maggie Crackers
My love for Maggie has lead me to create Maggie crackers. Maggie lovers like me will love this cracker. Since instant noodles aren't great healthwise that's when Maggie crackers come in rescue. Now you can enjoy the taste of Maggie with less than one packet of the noodles and it's gonna last you for 3-4 days. Oh! Did I tell you it's made along with goodness of whole wheat as well, Isn't that great? Now Maggie can be carried in your bag and can be eaten anytime of the day when those hunger pangs strike. What are we waiting for? let's quickly check the recipe!
Ingredients
Maggie noodles 3/4 packet of a single serving

Whole wheat flour 1/2 cup

Taste maker 2

Sugar 1 teaspoon

Butter 25g

Curd 2 tablespoon
Instructions
Grind the noodles in a blender into coarse powder. Mix Maggie noodle flour and wheat flour together.

Mix butter and sugar to this add the taste maker and mix well. Add the flour mixture, rub the butter with the flour till it resembles like bread crumbs.

Add curd and form a soft dough. Cling wrap the dough and refrigerate for half an hour.

Roll the dough thin, cut desired shape with cookie cutter, prick with a fork. Place the crackers on a parchment lined baking tray.

Bake them in a preheated oven at 180 degrees for 15 minutes.
Notes
Roll the crackers thin for crispy crackers.
Use curd as required, it is just to bring the dough together. Do not knead.
Check the baking time and temperature with your oven.