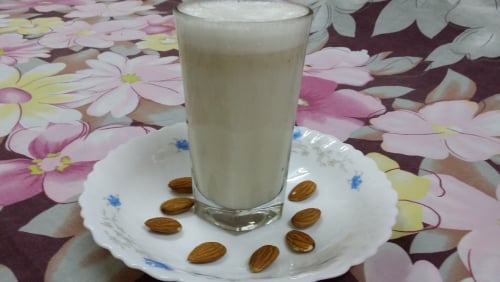 Badam Sherbet
29 March, 2018
This is a perfect drink with the wholesome goodness of almonds. As you all know, they are an excellent source of Vitamins B,E and Folic acid. Natural cooler and quenches your thirst in Summers. Improves the functioning of brain if consumed on a daily basis. Improves the eyesight too. It is a heavenly drink on the whole without any doubt.
Ingredients
Almonds soaked overnight a cup

measuring cup

Sugar 3 cups

Poppy seeds 1/2 cup

Melon seeds 1/2 cup

Water 1 cup
Instructions
Dissolve sugar on medium to high flame stirring it all the while. Remove the skin of the soaked almonds and make a paste of it in the blender along with melon and poppy seeds.

As soon as it gets a one string consistency, add the paste to it and cook for a further 5 mins on low flame.

Sieve this after cooling in a clean sterilised bottle and use as and when required.

For a single serving, you need to take 3 tbsp of this mix and add to the milk. Pop in some ice cubes and serve chilled.

Milk should be boiled and chilled for this.

For another variation you can just add this to chilled glass of water and drink it. You can also add this to the sparkling water too.

With this measurements you can serve almost 15 people. And can double or triple the recipe according to one's requirement.