Tipsi Monkey
1016 N.Sheridan Road
Winthrop Harbor,IL60096
USA
847.246.3932
www.tipsimonkey.com
Nestled half way between Chicago and Milwaukee is a little bedroom community known primarily for being the home to the largest marina on the Great Lakes.  If you don't live there, or enjoy water sports, there are few attractions in Winthrop Harbor.
There is a new culinary destination in Winthrop Harbor.  In the middle of August, Tipsi Monkey joined the community.  Tipsi Monkey is a Tex-Mex themed bar that specializes in tequila based drinks.  If you're looking for a casual dining experience with friendly service, Tipsi Monkey will satisfy these requirements.
The atmosphere is lively with the after work crowd looking for a place to unwind after a tough day, or perhaps to take in a game with the guys.  The bar keeper appeared to have a good handle on the drinks and kept up with the opening weekend crowd.  The drink menu boasts nearly 30 different tequilas, a nice beer selection, sangria, and some inventive mixed drinks. This reviewer was there a bit early to comfortably enjoy the extensive adult beverage list, but the bar keeper happily kept my soft drink fresh and was attentive to the other patrons.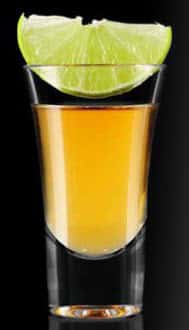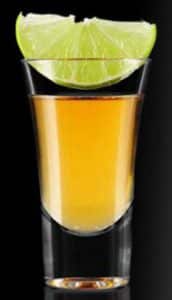 The waiter promptly brought multi-colored corn chips and both red and green salsa.  You could taste the freshness.  The red salsa was flavorful and mild.  The green salsa was fabulous.  It was the perfect balance of tomatillos and green chilies.  I didn't want to fill up on the complimentary food but could not tear myself away from the green salsa.  I ordered a refill just to be sure I could use it with my entrée.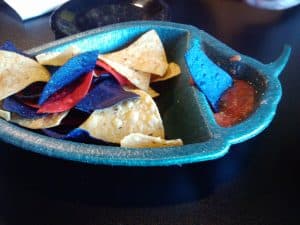 Chef Luis was there and kindly walked us through the menu.  He told us that everything is made fresh to order and that he does not use canned or frozen food.  Everything on the menu looked delicious.  In the end, we decided to taste one of the house specialties – Tacos for Two.  We were faced with the choice of two meat or vegetarian tacos.  After some debate, the grilled steak with cilantro and onion and the fish with sweet chili sauce and Mexican Slaw won the battle to make it to the plate.  The base items were served with standard taco toppings of cheese, pico de gallo, sour cream and our choice of tortillas.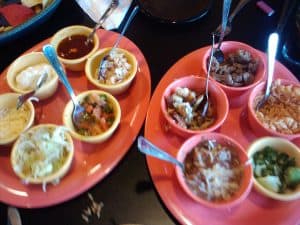 The food was as excellent.  It was fun to build our own flavor combinations.  The stand out flavor was the sweet chili sauce.  It was the perfect complement to the lightly breaded and fried fish and the creamy Mexican Slaw.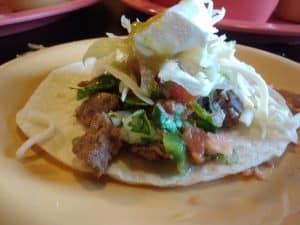 There is a new destination in Winthrop Harbor.  If you are in one of the surrounding communities, or just in for a Lake Michigan cruise, swing into Tipsi Monkey for the fun atmosphere, delicious food and great service.  Check out the food and drink selection at www.tipsimonkey.com.