Here in India, the microwave is mainly used by almost all households to simply re-heat food. However, there are various recipes that can be easily made with the use of this very common household gadget.
Food can be cooked both quickly and efficiently in a microwave because it works on the principle of directly providing heat to the tiny molecules inside the food through the process of radiation.
Now, of the various recipes that can be made with the use of a microwave, Baked potato is one such quick dish.
If there is one vegetable that even a hardcore carnivore cannot say no to, it has to be the humble potato. Fried, baked, grilled, jacketed or even boiled. A spoonful of this complex carbohydrate laden veggie, is deliciousness in every mouthful.
Microwave Baked Potato is a quick, easy and healthy American breakfast that can be made very easily by anyone and since it is cooked in the microwave, its as quick as 1-2-3.
Baked potatoes are equally loved by the young and old and are an energy packed breakfast food comprising of complex carbohydrates, a preferred choice for a healthy diet, besides they also are rich in potassium and good a source of vitamins B6 and C.
Let's learn how to make perfectly baked potatoes in the microwave from our expert home chef Sundari Giri, who also runs her blog Ladles and Spoons
Sundari says, we will be baking the potatoes in their jacket, this means we will not peel the skin of the potatoes.
Though this is a very simple recipe, a little care has to be taken to cook the potatoes perfectly since this will then be eaten straight from the microwave with of course some toppings of your choice.
If not cooked through, one will not be able to spoon out the soft cooked potato flesh easily.
So let's see how to bake the potatoes using a microwave
Steps:
To make baked potatoes in a microwave, we need to choose medium to fairly large-sized potatoes.
Clean the potatoes thoroughly to get rid of all the mud and then wash well with water.
Wipe the potatoes dry with a kitchen towel.
Next apply some olive oil evenly all over the potatoes.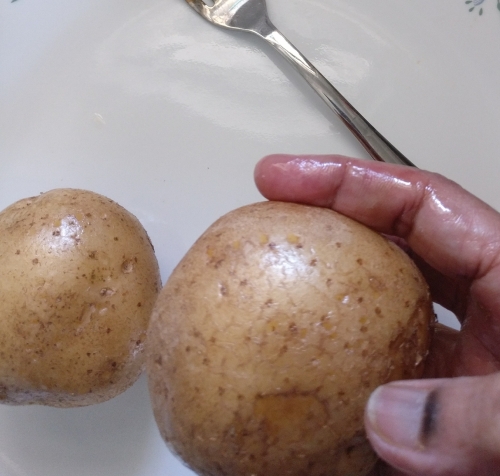 Prick the potatoes all around with the tines of a fork. This step is very important as this allows steam to escape or else you will find the potatoes bursting and pieces strewn inside the oven.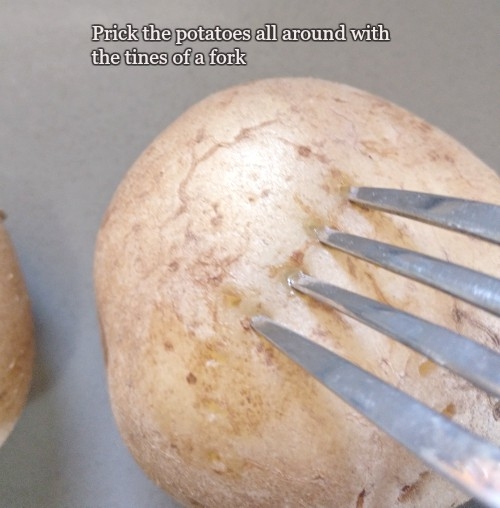 Sprinkle salt and powdered black pepper over the pierced potatoes.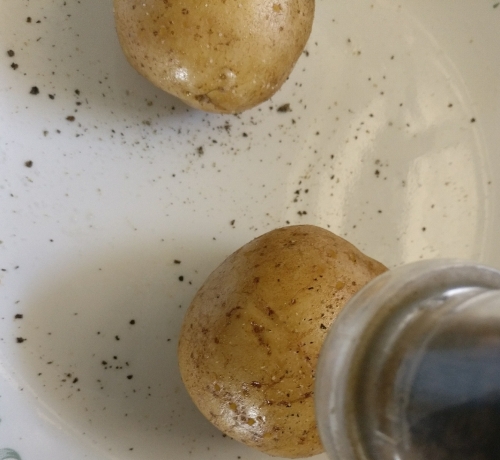 Place the potatoes in a microwave safe dish and bake for 5 minutes.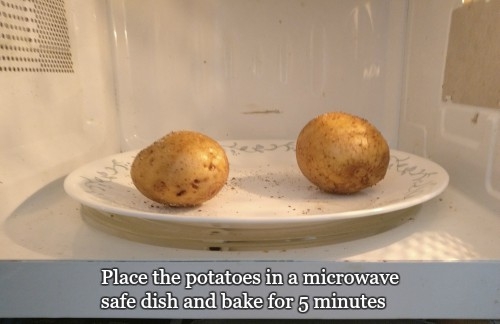 Open the oven and turn over the potatoes and bake again for another 5 minutes.
Check whether the potatoes are baked well by inserting a knife. If the knife passes through easily and you notice that the potatoes have a mashed texture, then they are cooked.
If the potatoes still remain uncooked, put them back in microwave for a minute more.
Once the potatoes are perfectly baked, you will notice that the skin or jacket of the potatoes will appear a little wrinkled.
Remove the dish from oven with help of oven mitts.
Making a slit on top of the potatoes and divide each potato into two halves.
Apply some butter over this when the potatoes are still hot, so that the butter melts and flavours the potatoes evenly.
Top the baked potatoes with grated cheese and sour cream and also sprinkle salt and pepper over them.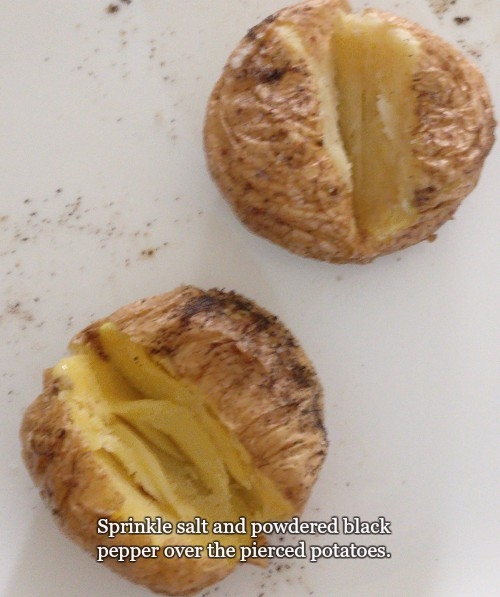 Voila! Your microwave baked potatoes are ready to be served with toppings of choice.
Baked Potato With Healthy Broccoli Topping: I have topped the microwave Baked Potatoes with some healthy vegetable toppings of broccoli, corn, green peas, cheese and some hung curd.
To do this,
Break the broccoli into small florets, blanch the broccoli, peas and corn in boiling water for 2 minutes. Remove the cooked vegetables and drain off the excess water.
Pour 100 grams curd into a muslin cloth and allow the whey to drain out by placing this over a pot. You will have thick curd left in the cloth after sometime. (Alternately sour cream may be used if you do not have time make the hung curd).
In a hot pan add some olive oil, along with the broccoli, corn and peas to and sauté on low heat, add in salt and pepper powder and continue to sauté for a few minutes until the vegetables are tender. Sprinkle some chilli flakes on top.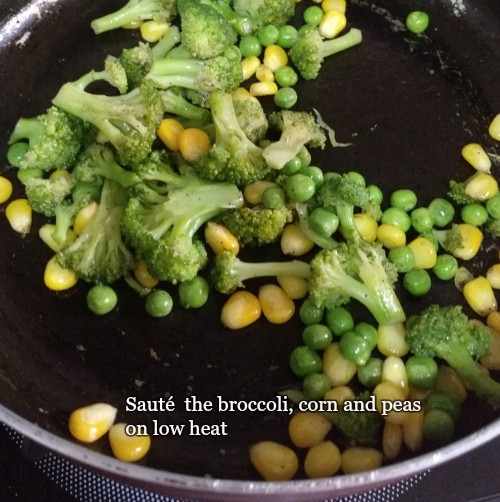 Remove the broccoli mix into a bowl and add in the prepared hung curd or sour cream and gently mix. Check for salt and add more if needed. 
Serving the Microwave Baked Potatoes with Stir fried veggies:
Arrange the halved baked potatoes in a microwave safe plate, add some grated cheese and heat the potatoes in the microwave for half a minute or until the cheese melts.
Remove the baked potatoes into a serving dish. Spoon the stir fried veggies and yogurt mix over each baked potato.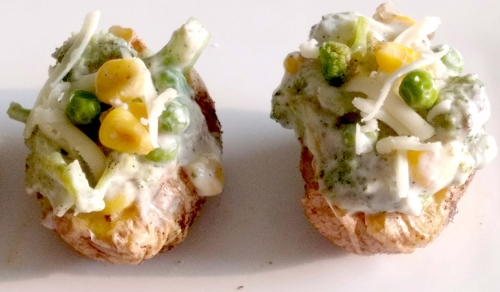 Add some grated cheese over this and serve. 
Note: The baked potatoes can be baked earlier and refrigerated.
They can be re-heated just before serving. 
These stay good for up to 2 days.