When you are in Uttarakhand, Dev Bhoomi of India, all you can hear are the ringing bells of temples, chirping of birds, gushing of the meandering river streams across the valley. Serenity, peace, and calm of the land will help you in your quest for soul searching. But the grumbling stomach of a foodie is always in search of food.
My quest and hunger to eat local Uttarakhand food ended in Kausani when I finally got to eat the real Kumaoni (Kumauni) or Pahari Food after a long drive from the Capital (New Delhi). After the barrage of Chole Kulchas, butter paneer and other North Indian food, the simple offerings of the town nicknamed the "Switzerland of India" (by none other than Mahatma Gandhi) was a welcome change. But that doesn't mean that other cities of Uttarakhand have nothing to offer. My ability to indulge in the various offering s was only limited by my stomach's capacity and the lack of time. I wish I had10 bellies when I am on vacation and still did not put on an ounce of weight even after eating like an elephant (But it's just the wish of every next girl which is never fulfilled). We started our journey from New Delhi via Pangot, a small hamlet nestled almost adjacent to Nainital, and a place that is frequented by bird lovers. So, here goes my culinary journey of Uttarakhand –
Bal Mithai and Singori: It was my trip's mission to taste Bal Mithai.. From the time I heard the name while I was writing about sweets from North India, I wanted to taste it and now I know why it is so famous? As I entered the city of Almora enroute to Kausani, all I could see were the sweet shops selling Bal Mithai and by the time I could ask my car driver to stop, I would have crossed atleast 20 shops which were selling the same sweet. Like a greedy explorer, I felt as if I have discovered America and jumped out of the car and bought the delicacy to relish it. It tasted awesome! The Indian version of chocolate fudge. So chewy, tasty and the crunchy sugar balls increased the sweetness to satiate my sweet tooth. Another sweet which needs a mention and is equally good but is less sweet is "Singori". It is made from Khoya with a pinch of cardamom powder wrapped in Maalu/Maav leaves which are only found in the jungles of Uttarakhand. But nothing beats Bal Mithai.
Buransh (Rhododendron) Juice: while enquiring about famous food in Uttarakhand, People suggested Brass Juice and I gave a curious yet sceptical look to them. I asked that person at least 5 times to confirm if he is speaking right but got the same answer every time. Finally, with a lot of confusion when I asked Chef Karan Kanu Papnai, at Heritage Resort, Kausani whether there is a brass juice available here. He laughed and said it's called Buransh which is a red colour flower found in the jungles of Uttarakhand. This Juice is very good for the heart and usually blossoms in the month of February and March. There is a local festival to mark the importance of this flower. It is called as "Phool Dehei, Chamma Dehei" where kids put this flower at the entrance of each door in the village and get rice and jaggery from each house. Something similar to Halloween trick or treat.
I picked up the bottle of syrup, tasted the juice and even got lucky to see the flower from which this juice is made.
Maduwa Roti: All my hunger for Pahari food was satisfied at Heritage resort, Kausani, Thanks to Chef Karan and the whole staff so that I could taste delicacies one by one during my 2 days stay at the Resort. Maduwa is a cereal similar to ragi ( Finger Millets) which is grown in the mountains. It is considered good for high blood pressure. It also helps in improving digestion. It is hot in nature and hence usually served during winters. To make Maduwa Roti, you would need 1 cup of Maduwa Atta, 1 cup of wheat atta or gram flour, add 1/4 teaspoon of fennel seed powder and make the dough with lukewarm water. Once the Roti or Chappati is ready, generously put ghee and enjoy it hot. I loved it so much that I ordered it for every meal.
Kumaoni Raita: Kausani was nicknamed "Switzerland of India" by Mahatma Gandhi because he visited here in 1929 and loved the place so much that he extended his stay from 1 day to 14 days. And I can imagine why, after tasting all the food here! Here is another simple yet unique dish, Kumaoni Raita. The secret to this kumaoni raita is the original red color mustard seeds or rai which is found only in the hilly region. These seeds are so pungent that if you don't get tears in your eyes while pounding it then they are not the original seeds. All you need is 1 cup of fresh curds, 1 teaspoon of red mustard seeds which are pounded into a coarse powder, Unpeeled Kaumaoni Kakdi (similar to cucumber which is now generally used), salt, chopped green chilli, a pinch of turmeric and coriander leaves. Chef Karan told me that he has served this raita to Chef Vikas Khanna during one of his visits to Pune.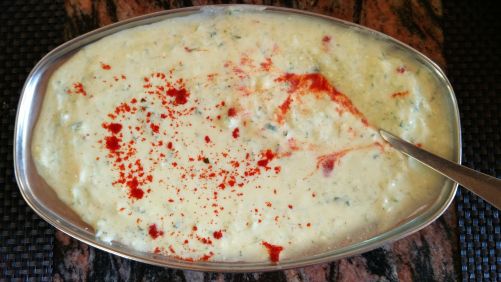 Bhatt ki Chatkani: Bhatt is a local mountain dal (lentils) which is very difficult to cook if pressure cooked. Hence making it is an art. It is a tough lentil just like the simple and tough people of the mountains. It's eaten during summers as it is very cold in nature. To make one bowl of the dish the dal is roasted in ghee for 10 -15 minutes till it starts crackling and hence the name Chatkani (Chatkana is a Hindi word for Crackling). Take out the cracked dal from the iron skillet and keep it aside. Add cumin seeds, 1 teaspoon of wheat flour or gram flour and roast and keep aside. Add green chilies, cumin seeds and chopped garlic and sauté it for few minutes. Add water and let it simmer. Add roasted wheat flour and slowly add crackled Bhatt, Add turmeric and salt. Put one more round of tadka with red chilies and chopped garlic. Wow, what a brilliant taste.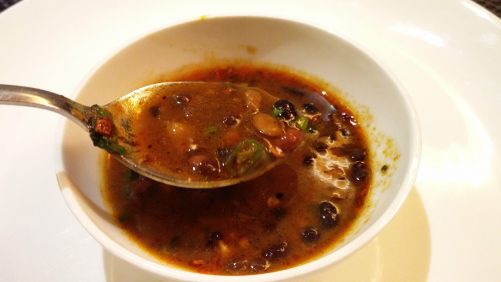 Aloo ke Gutka: Gutka is a hindi word for Potato wedges and this is the speciality of making this dish. Big potatoes have to be sliced into wedges. Take 2 boiled potatoes and slice them into Wedges. In an iron skillet, add ghee (all the recipes need rich desi ghee), add coriander seeds and cumin seeds. Sauté them in ghee till seeds crackle, add chopped green chilli, whole dried red chilli and chopped garlic, add turmeric and potato wedges. The potatoes should not break while you make it. Garnish this simple dish with Coriander leaves
Gahat Ki Dal : Also known as kulthi dal, or horse gram lentil. It is very good for people who have kidney stones. This hot lentil will help to flush out kidney stones within 3 weeks of its consumption. Soak the dal overnight and drink the pinkish lukewarm water early morning. Making this dal again takes hours and so put it in pressure cooker and let it simmer for one and half hour. Once the dal is boiled, In the skillet add cumin seeds, chopped garlic, whole dried red chillies and coriander powder. Add dal. Enjoy with steamed rice.
Kumaoni Halwa: Made from pure ghee and wheat flour, this is a must-have delicacy during festivals and special occasions. It has a very subtle taste and is not very sweet. Making it is simple but a time-consuming process, I guess the reason behnd the good taste. Take a non-stick pan and dry roast the wheat flour till the raw smell goes off and it turns golden brown. Keep it aside. Make rose syrup by adding rose water to sugar syrup similar to gulab jamun syrup but with a thinner consistency. Put ghee in the pan, add roasted wheat flour, a pinch of fennel seeds powder and stir in the syrup so that no lumps are formed. Garnish it with dry fruits
Maggi: I know, I know it's not local and authentic at all but this food and the brand is what makes us Indians survive when we are on a mission and imagining a life without maggi is next to impossible.. It definitely needs a mention in the list. This brand has made its mark even on the highest point on earth. All I could see were Maggi points across the valley with different names like "Megi" Magi" " Meggi" written on the stalls. No idea, how difficult it is to copy the correct spelling from the packet itself but maybe that's what would make Maggi sound local. The local taste of Maggi can be from simple hot piping Maggi to tadka Maggi which has proper cumin seeds, turmeric, potato, onion, and tomato, completely to the taste of "Meri wali Maggi" (Remember the Maggi Ad) where shopkeeper decides what he has to offer. But the beauty and chillness of the hills will make you fall in love with "Jeera (Cumin seeds) Wali Maggi.
While I loved learning about the recipes I realized that garam masala was never used in any of the recipes which is usually put in most of the Indian dishes. These dishes were simple and used lot of whole condiments and spices which means more taste and originality as powdered masalas were introduced in the market for the convenience of cooks. I also learned one more thing in this trip that if you are visiting any place, It's always good to chitchat with the local people and especially the housekeeping as they would be the best google search engine for that particular location.
Finally, I would like to give a Big Thank You to Chef Karan Kanu Papnai from Heritage Resort, Kausani who took out time to share the recipes.
If you are planning to shop in Uttarakhand, I will be sharing the list soon. Don't miss it, after all these are the memories which we cherish.