Even if you're not the most skillful home cook in the world, you still need a proper kitchen. This space needs to inspire you and help you come up with three amazing and healthy meals a day, and that's sometimes not easy at all. This is why your kitchen needs to be functional and practical, regardless of its size and how good at cooking you actually are. Luckily, doing this is easier than most people think, so here are a few ideas you should take into consideration if you're trying to make your kitchen more functional than ever.
Remove everything you don't need
Creating clutter in the kitchen is something none of us love doing, but this is actually quite easy. Just a day or two is enough to take your kitchen from absolutely practical to totally impractical. You may add a few things on your countertop first and continue doing so without even noticing. And, before you know it, your kitchen will be full of clutter and things you don't need.
But, if you want to make this space more functional, you need to declutter it first. Removing everything that's not absolutely necessary doesn't have to take too long, especially if you do it regularly and know what you're doing. Once you've re-established some order, you just have to keep maintaining it in the days to come, and you won't have a problem with clutter in your kitchen ever again.
Reorganize your appliances
Homeowners who spend a ton of time in their kitchen know how crucial it is to have a cooking space that's properly organized and functional. That's why lots of them insist on a kitchen triangle and organize their fridge, stove and sink that way. That should help them reach each of these in a matter of seconds, no matter how big or small their kitchen is. It will also give them more maneuvering space, which is something all home cooks will appreciate.
However, just because this is an idea lots of people around the world are using doesn't mean you have to use it as well. Instead of reorganizing your kitchen using the triangle rule, you can opt for other solutions as well. Simply placing your appliances next to each other makes a ton of sense as well, especially for smaller kitchens that require as much maneuvering space as possible. This reorganizing process won't take too much of your time and energy, but will certainly go a long way,
Make your kitchen bigger than before
If decluttering your kitchen and introducing a new organization isn't enough, you need to go all in and find a more lasting solution. Building a new home is a radical, but amazing way to make sure your kitchen is big enough. Still, this requires a ton of planning, and you need to do it carefully. Relying on experienced people who can do this for you is definitely a better idea, so think about this alternative too.
This is a popular trend among homeowners in Australia, for instance, and they seem to be quite focused on giving their kitchen more space and functionality. That's why they might think about hiring those professional home builders from Sydney who could make all their dreams come true. These people know everything there is to know about building and designing homes so that they serve a specific purpose. That's the best way to equip your home with a proper kitchen that will give you enough space for all your necessities and equipment.
Take care of the pantry
No matter how big your home is, you still need a proper pantry. This is where you can keep all your spices, ingredients, canned foods, as well as your smaller countertop appliances – when you're not using them, of course. That's why your pantry needs to be functional and properly organized, especially if you're stuck with a tiny pantry with limited space. What's great, though, is that you can do this quite easily and quickly, particularly if you get properly organized.
Start by introducing some new storage solutions and shelves. Designing and building them yourself is a great idea because this will allow you to maximize all your available and utilize literally every inch in your pantry. Once you do that, it's time to start arranging your possessions and create a new order. You could organize all your spices together, especially if you use them at the same time when cooking because this will help you save valuable time every single day. Also, don't be afraid to use those plastic containers that can hold anything from nuts and grains to dog food, and everything in between.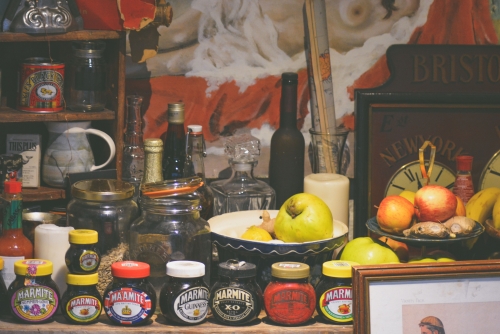 Making your kitchen more functional than ever sounds like a lot of work, but it's actually easier than you think. It's all about finding a few great ideas and making the most of them, so explore these first and introduce a new order in your kitchen.