Eiffel tower, charming walkways and extravagant roads is what you will imagine the moment you take a bite of a very luscious macaron. Macarons (Not Macaroon, yes they are different) is a sweet meringue based confection made up of amalgamation of egg white, icing sugar, granulated sugar, almond powder. These are cloud like sandwiches and taste delicious with the right choice of flavoring. Macarons are the most quintessential part of the French cuisine which is well known across the globe for its opulence and taste and it's considered as the modern haute cuisine now.
French desserts have stolen the show and are every foodie's favorite, right from crème brulee to the French apple tart.
Macarons are one of the many magical things contributed by the French to the rest of the world. This tiny bit-size delicacy was invented in 1533 and has remained original and true to its flavor.
There are two prominent ways of making macaron one is the French style and another it the Italian way. It's one of the simplest to make, yet easiest to mess up recipe there ever was!
The word "macaron" and has the same origin as "macaroni", and both mean fine dough.
But you'd be surprised to know that macarons involve no dough whatsoever! It's just the simplest recipe in the book, and one that everyone adores.
Macarons were really always popular but now you can see they are all over the internet. They are an ultimate fusion of fashion and food and perfect for the generation that prefers indulging in the luxury of taste and love Instagram.
We have curated simple recipes just for you so that you can also relish the whole macaron experience. If you want to perfect the art of making macarons, then these are few basic yet important tips to make perfect macarons which you cannot miss.
A perfect macaron is the one which has shiny smooth top, Ruffed or crinkled edges also called as feet and soft and chewy interior and to get this perfect combination, you need practice.
If the top of macaron is grainy, uneven with peaks poping out and not shiny, the simple reason is the dry ingredients ie almond powder and sugar was not sifted properly or were not taken in right quantity. Following a particular recipe and measuring the ingredients is a must. Buying a kitchen scale is a must. Do it 2-3 times to get the perfect mix, this helps to aerate the dry ingredients.
Egg whites and Sugar mixture is called as Meringue. If this is over-beaten, you would get hollow interiors. If it's under-beaten, then macaron shells will be soft and wrinkled. So to get the perfect Meringue, make sure that you take only egg whites (not a drop of egg yolk) in an oil-free bowl (very important) and mix Sugar slowly to form perfect hard peaks and if you over-do it, peaks would not form.
Mixing the dry ingredients with meringue is called as Macaronage (All the great terminology to make the great dessert). Mix the ingredient and start folding them gently. The batter would be thick initially but would slowly become thin. Under-mixing means thick batter and would result in uneven shell peaks and over-mixing means runny batter which would result in hallow tops or flat shells or no ruffled feet.
Baking or Breaking – yes you need to bake them to perfections and here are few tips to do that –
If you are serious (which you are) then invest in heavy aluminum sheets for baking macaroons and correct round piping tip so, get round circles for shells.
Use parchment paper on the heavy sheet to spread the macaroon batter and tap the batter once you put them on sheet and let it rest for 30 minutes before putting into the oven. Make sure that the temperature of the oven has to as per the recipe guideline.
To know more tips check out – Veena Azmanov's Blog post on 20 tips perfect french macarons
The simplest of all but it needs patience and practice. Here is the Video to explain the art of macaron making.
Chocolate Macaron: If you are afraid for failure then check of this recipe as the author made perfect macarons in her first attempt all you have to do is follow exact steps and rules. Quite motivating!! Click for the recipe here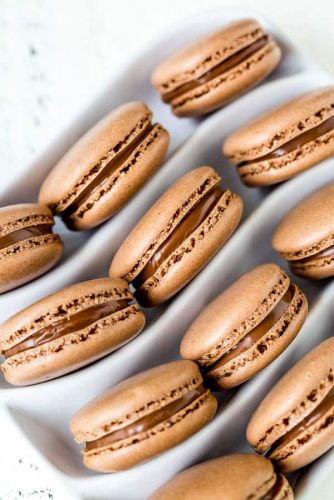 Coffee Macaron: After Chocolate, coffee is another flavor which is loved by the dessert lovers. These melt-in-mouth, coffee macaron would be a hit at your teatime. Click for the recipe here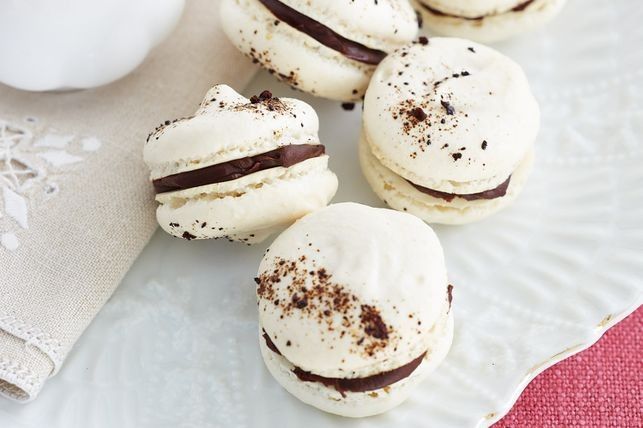 Orange Macaron: For those who can swim in the pool of orange juice and I am sure kids love it. Orange macaron's bright color would attract all the kids says Veena . A must-have in birthday parties. Click for the recipe here.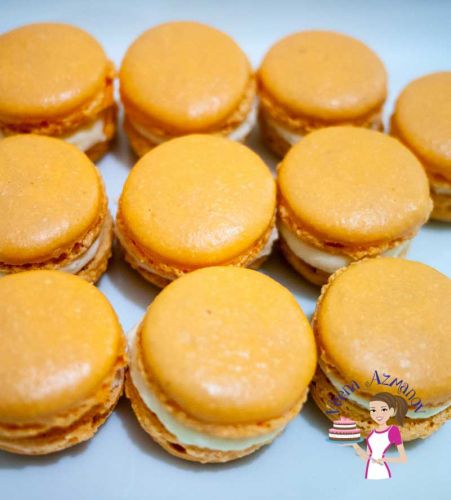 Vanilla Macaron: The safest of all the flavor and nothing can go wrong with this flavor but before you make them remember a good macaron has a flat top and a crinkled rim at the bottom says Lindsay who also shares few tips and myths about macaron. Click for the recipe here.
Caramel macaron: Patience, practice and more practice is all you need to make these cutest, prettiest and tasty macaron says Malani. The Salty caramel macaron will give you the sweet and salty flavor which are perfect for your movie night dessert. Click for the recipe here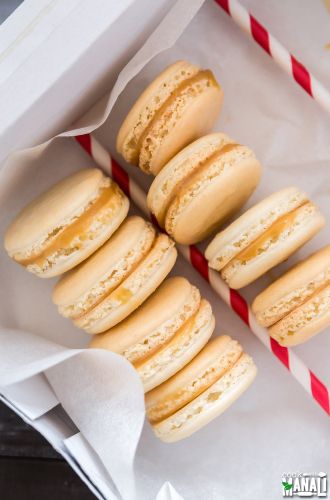 Here's also a list of some books which will help you master the art of making macaroons
And if you are feeling lazy but still want to have macarons don't worry we have still have an option for you. You can visit the following places in your cities and have a fun experience.
1. Mumbai
2. Delhi
3. Pune
4. Banglore
Macarons are truly a blessing of French cuisine to the fraternity of food lovers. And what makes macaroons more special is that you can pack a bunch of these colorful pieces in a beautiful box tie a ribbon and gift it to your loved one. They are colorful and extremely creative because they allow experimenting.
Cupcakes have been a trend for a while but now macarons have conquered the market because it's a better option comparatively. One cupcake contains around 400 calories whereas a macaron only contains 70-100 calories. So macarons help with us portion control and also give the same satiating feeling we get after having a huge cupcake.
So feel free and have macarons because we just gave you too many reasons to have some.
Let's See if you can find out the line where we have mispelled the word Macaron as MACAROON. Just to check if you have read the whole story properly
.
Hope you have enjoyed reading it. Do share your comments and Share this article across.