My sweetheart's name is Mangifera Indica. It should be yours too. Mangifera Indica was my first crush (literally). Mangifera Indica is a mango variety. These mangoes come every summer and break my heart when they disappear from the market, leaving me pining for more and enduring an antagonizing wait for the next summer. Being the "dramebaaz" that I am, I break out into a song:
Last Summer I gave you my heart; the very next season you gave it away
Why did you break my heart, why did I fall in love, why did you go away, away, away?
Oh! I miss them so much. It was about time the world became acquainted with my love story, and what better platform than Plattershare – the home of all things food and gustatory.
Mangoes are excellent sources of Vitamin A, Beta Carotene and have antioxidant properties!  but do you really care about it …Nah at least I don't , All I want is to indulge myself with this fruit as Katrina does when her fingers slowly slide into the bottle of Slice or transform into a small kid drooling at a Frooti in the hands of Shahrukh Khan. There are many varieties of mangoes and only true connoisseurs possess the knack of picking up the perfect Mango. Alphonsos   are known for its sweetness across the globe,  Neelam, Sindhoori, Naadan, Malda , Deshari, Bainganapalli, Totapuri, Lagra  are few other varieties to die for.  Have you ever eaten a whole platter made of Mangoes? Actually my Kitchen was overloaded with mangoes and so I decided to mess with them. You enjoy mangoes best when the juice and pulp drips Forget Table manners for a while and lets dig into the Mango Platter with our bare hands.
As all feasts begin, we start with a welcome drink. Oh! And you might want to say the odd prayer in case this is your first time in the kitchen. For, I'm sure even "I've-never-entered-the-kitchen-cooks" can conjure up the easy to make delicacies mentioned below. In the words of the great Chef Auguste Gusteau (of Ratatouille fame): "Anyone can cook".
A Chocolate Mango milk shake is ready to steal the show.
Chocolate Mango Milk Shake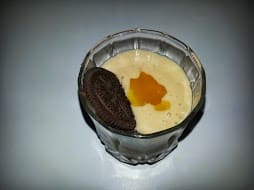 Preparation time: Depends on how fast you can peel the mango. (2 mins max)
Serves: Two glasses
Ingredients:
1 Ripe Mango (preferably Totapuri or Bainganpalli)
2 tbsp. Sugar (diabetics please avoid)
1 cup of chilled milk
2 tsp. of Nutella spread (if you love chocolate …Its ok to add more! nobody is watching you)
For Decoration
Strawberry / Mango Crush.
1 Oreo biscuit
Method: Peel the mangoes and cut them as you wish. It's perfectly okay if you cannot cut them into perfect cubes.  Put all the ingredients into the blender and blend it nicely. Sing your favorite item song for 5 minutes while the blender is dancing (mixing!) yummy ….  Shake is ready. Decorate with Mango / Strawberry crush and an Oreo Biscuit.
Mango Salad
Preparation time:  Depends on how fast you can cut the mango into cubes (little complicatedL)
Serves:  Two
Ingredients:
1 unripe mango (the sour, tangy green ones)
1 tsp Salt
2 green chilies (if you love hot food)
1 tbsp sugar
1 cup American Corn
1 cup of Green/Red/Yellow bell pepper (chopped into small cubes)
1 tbsp cooking oil for heating
Decoration
Mint leaves
Method
Take one unripe mango, peel it and chop it into small cubes. Add Salt and Sugar and keep it aside. Cut the green chilies and add to it. Heat oil in a pan; toss the corn and bell pepper into it. Add to it, the salty –Sugary Mangoes .Decorate it with Mint leaves.
Mango Raita (Aambyacha Raita)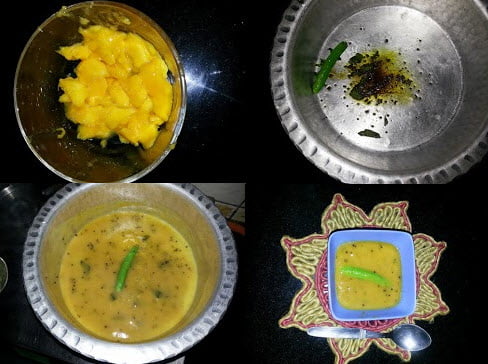 This authentic Maharashtra's delicacy would be a surprise on your platter .Generally raitas are Curd based and salty in taste but Aambyacha raita is made from fully ripe mango. So here you go
Preparation time:  5 Minutes 30 seconds! (30 seconds for you to admire your creation)
Serves: Two
Ingredients:
1 fully ripe mango
2 green chilies
1 tsp. mustard seeds
1 tbsp.  Ghee (or cooking oil)
Few Curry Leaves
Pinch of asafoetida
Method
Peel the mango and take out the pulp completely. Blend the pulp along with one green chilly in the blender till it becomes a smooth paste. Put ghee in vessel and heat it till a nice aroma of ghee starts emanating from the pan. Add mustard seeds and Curry leaves. Allow them to splutter nicely. Add green chili, Asafetida and blended mango pulp. Add salt to it. Let is Simmer for approx. 2 mins …Enjoy your sweet, Tangy Aambyacha Raita.
Courtesy : Harshala Bhargava 🙂
Mango Rice
A common dish from the southern part of our country to complete the Mango Platter
Preparation time: 5 Mins
Cooking time: 20 mins
Serves: Four
Ingredients:
1 unripe mango (peeled and grated)
3 tbsp. Channa Dal (Gram pulse)
2 cups Basmati Rice.
2 green Chillies
Few Curry Leaves
1 tsp mustard seeds.
1 tsp of Turmeric .
Method:
Wash the Rice thoroughly (to remove any pests and pesticides!).  Add water – 1 ¼ cup water for every cup of rice. Put it into microwave for 15 mins. You can use normal pressure cooker also, but I generally cook rice in the microwave for three reasons
1) I don't have to count how many whistles are done!
2) Don't have to run to switch off the gas once the Rice is ready
3) Even my husband can do this easily!
Meanwhile, in another cooking vessel, put ghee . Remember the rule; let the aroma of ghee fill your kitchen. Add mustard seeds, curry leaves, green chilli, Turmeric and channa dal and wait till the Channa dal turns golden brown. Add grated mango and stir it for few seconds. Put the cooked rice into this mixture slowly using a serving spoon so that it mixes well. If you are putting the rice in one shot it might form lumps and which would spoil the whole presentation.
And hurray!! Our Mango platter is ready! In less than 45 minutes, the king of fruits has been plattered!
Yeah Yeah, the Dessert is missing, but enough already…Shall we go out for desserts?