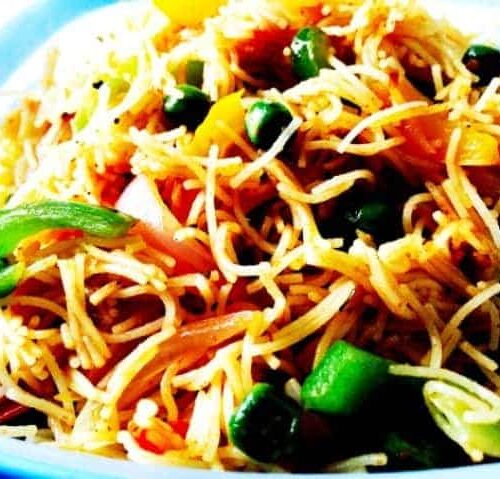 4 Pepper Schezwan Fried Vermicelli
27 May, 2016
Vermicelli is one of my favorite food, coz its so flexible that you can make anything out of it. From kheer to upma, its just awesome in every frame! Today I am making it in Chinese style 🙂 its light, its healthy & its full of flavors. You will simply love the vibrant colors in this dish, you can have it for a Sunday family brunch or a quick bachelors dinner. This dish is surely your take when it comes to cutting calories too coz Vermicelli is more healthier option & a perfect replacement of your unhealthy maida noodles:) So don't wait to try it...
Ingredients
2

cup

Semolina vermicelli

1/2

red bell pepper

1/2

yellow bell pepper

1/2

green bell pepper

1

medium onion

2

tbsp

home made Schezwan sauce

1

tbsp

black vinegar

2

tbsp

tomato puree

2

tbsp

olive oil

salt to taste
Instructions
Chop, onion, bell peppers in big pieces

Boil Vermicelli in a big pot with excess water. add 1 pinch of salt & 1/2 tbs olive oil while boiling it. Cook for 5-7 mins & strain. sprinkle some oil so that vermecili don't stick to each other.

Now heat oil & add vegetables.

Now add tomato puree & schezwan sauce

Now add Vermicelli & mix well adding some salt & vinegar

Saute for 5 mins.

Your 4 pepper Schezwan Vermicelli is ready to be served.
Notes
You can add any vegetable of your choice.