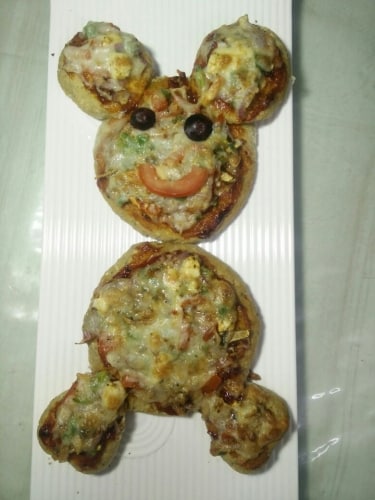 Power Packed Pizza ( For Kids)
Every bite of pizza is full of nutrition and healthy for kids.
Ingredients
1

cup

whole wheat flour

1/2

cup

Oat flour

1/4

cup

soya flour

1/4

cup

jowar flour

1

tbsp

roasted sesame seeds

1

tbsp

roasted flax seed pwd

3/4

cup

grated cauliflower

1 1/2

tsp

salt

Less then 1/4 tsp black pepper pwd

1/2

tsp

oregano

2

tbsp

home made white butter

Yeast mixture:-

2

tsp

dry yeast

1/2

cup

Luke warm water

3/4

cup

Luke warm milk

2

tsp

sugar or honey

For Topping-

1/4

cup

paneer

1/4

cup

mushroom

1/4

cup

tomato

1/4

cup

onion

4

cup

Fortune Soya Granules

soaked and squeezed - Salt, chilly

Salt

chilly. , pepper and oregano to taste

3-4

tbsp

home made pizza sauce

Mozzarella cheese

grated

Cornmeal to dust
Instructions
Take a bowl, put in the flour, salt and all the ingredients of dough together and mix well.

In a separate small bowl, pour in the warm water and sugar together and stir. Sprinkle in the yeast on top of this warm water. Set aside for 5 minutes until the foam appears on top

Then pour this yeast mixture into the flour and salt. Bring together with your hands to form a rough dough.

Then take a greased bowl and put in the dough. Keep it in a warm place for 40-45 minutes so that it rises and doubles in size.

In the mean while finally chopped the veggies, add soya granules, salt, pepper and oregano according to taste

Now punch the dough and knead again.

Now, take a piece of dough. Put the dough pieces on a floured surface and roll them into your desired shape. I have shaped into a Teddy bear.

Preheat the oven to 180 degree celsius.

Take a baking tray and lightly dust them with cornmeal.

Now, place the rolled doughs on the baking tray, prick with the fork and bake for 4-5 mins.

Take the pizza out from the oven, then spread the home made pizza sauce evenly with a spatula. Decorate the topping ingredients evenly on top of the pizza doughs.

Finally, sprinkle the grated cheese on top.

Bake these pizzas for a time period of 10-12 minutes. Serve hot.

Tip- To make a smiley face on the pizza, use a tomato slice. Cut an olive into half, and make the eyes. Use lots of veggies and Cover all the veggies with the cheese.