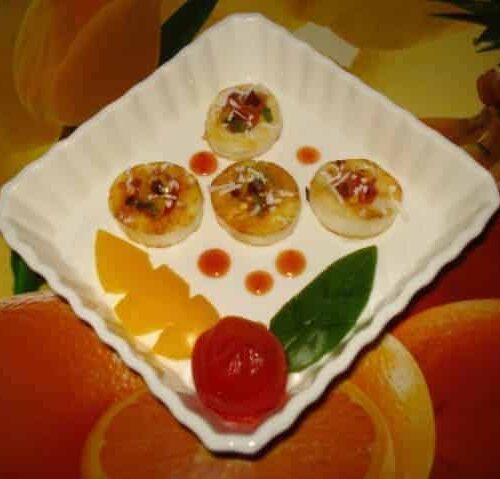 Paneer Grilled Canap??©S
14 March, 2016
it is healthy recipe for small hunger,can be served between meals or as starter.Actually it is a fusion dish Pizza lovers like it very much and mothers love it because they are giving nutrition in shape of Paneer Grilled canapés.it is non fried and can be made easily .Shape and size of this dish attracts to eaters,because we eat first with our eyes.It is hit in my parties.
Ingredients  
100

gm

-Cottage cheese

paneer1 finely chopped- Green chilly

1

tsp

olive oil + for shallow frying

1/4cup (Yellow capsicum finely chopped, Red capsicum finely chopped, Green capsicum finely chopped)

1/4

tsp

Salt and red chili powder to taste

1tsp tomato ketchup,1/2tsp oregano

Grated cheese

red chilli flakes ,chaat masala and lemon juice to taste for topping

To garnish –green and yellow capsicum leaf and tomato flower
Instructions 
Cut cottage cheese into 2 inch discs,Scoop out a little from the centre of these cubes to stuff .Crumble the scooped cottage cheese and set aside. Heat 1tsp oil in a non-stick pan.

Add green chilies and sauté for half a minute. Add yellow capsicum, red capsicum, green capsicum and mix well.

Add scooped cottage cheese, tomato ketchup, Salt, oregano and red chilli powder to taste. Keep stuffing aside. Heat sufficient oil in a non-stick griller pan. Keep the disks on griller pan and grill for 4-5 minutes.
Notes
you can add grated cheese and blackpepper powder also on top.