Recipe Taste
Not Specified
Yield / Serves
2 Servings
It's very healthy and nutrious and doesn't contain fat
Cut carrot, broccoli ,onion , potato and paneer into medium size pieces And cut garlic into very small pieces. Put all of them in the bowl and add some olive oil, salt to taste and black pepper and mix them well.
Now take the cooking tray that is inside the OTG and put foil paper or baking paper over it.
Now spread all the Vegetables over the cooking tray .
Set the OTG to 200°c and time sets to 30 mins. Don't forget to pre heat the OTG. Now put the tray inside . Do check the Vegetables in between as well and stir them little.
The dish is ready to serve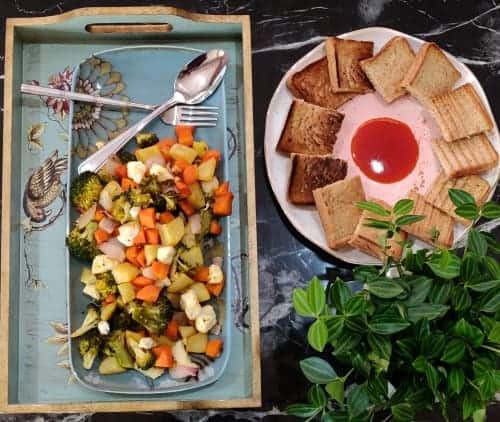 How useful was this post?
Click on a star to rate it!
Rated 3 based on 2 votes
Be the first to rate this post.
Copyright © 2021 Plattershare
Affiliate disclosure: As an Amazon Associate, we may earn commissions from qualifying purchases from Amazon.