Sugar, Sugar, Sugar – Don't eat sweets, it has sugar in it. While the world is busy disowning white sugar – Calling it processed, harmful and slow poison acting as a silent killer in our life (Read how Sugar kills us slowly). There are a lot of speculations about Brown sugar. Health conscious people around the world bet on White Sugar v/s Brown Sugar, but do you really know, which is a better alternative? Do you know how many calories does a tablespoon of brown sugar have? What about other alternatives?
Is jaggery or honey good for weight loss? What about the diabetic person? How do they handle their sugar intake? And what about the "zero-calorie sweeteners" which are available in the market?
Well, these are the few most frequently asked questions which Dieticians around the world have to answer almost every day. So Team Plattershare thought to find the answer directly from the experts. We interviewed, Dr. Priyanka Bakshi. Ph.D. (FST), M.sc (Food nutrition & Dietetics), Senior Nutritionist, Apollo Sugar Clinic,  Bangalore to find the most about all these sugar cravings and queries which we have. And this is what we asked.
How many Calories does a tablespoon of brown sugar have? 
Sugar is brown due to the addition of molasses during processing or may be brown following the first phase of processing before the refining process. Brown sugar containing molasses has higher water content than white sugar. 1 tablespoon of brown sugar contains 52 calories.
Buy C&H, Cane Sugar, Golden Brown
How many Calories does Sugar, Jaggery, Honey and Sweeteners which are available in the market have? 
1 tablespoon of sugar contains 59.7 calories; Jaggery has 57.45 calories and 1 tablespoon of honey contain 47.85 calories. Generally, sweeteners, which are available in the market, contain zero calories.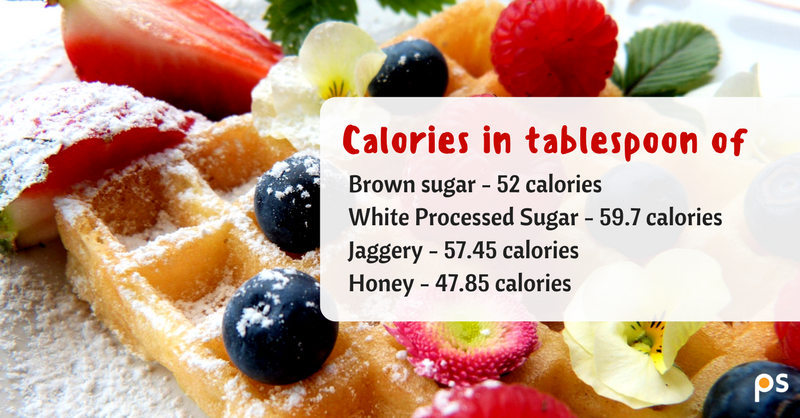 Which is better to have among the above in the day- to-day life?
For a diabetic person, it is better to avoid brown sugar, white sugar, honey, jaggery, maple syrup and corn syrups as well. For non-diabetic and obese patients, honey is most preferable, especially for weight loss.
How much of these should be consumed by a diabetic person?
Occasionally a diabetic person tends to have sugar and sugar products. On a daily basis, herbal sweeteners like Stevia leaves could be preferred.
General advice for a diabetic, pre-diabetic or non-diabetic person:
These are the following tips even if you are pre-diabetic or borderline diabetic, or diabetes is part of your family, it is important to follow a diabetic diet to prevent diabetes. 
A diabetes diet should be high in fiber like millets, whole grain, and oats.
One must contain milk without cream and buttermilk.
You should consume Fresh and seasonal fruits like apple, orange, papaya, pears, and guava.
Green vegetables such as peas, beans, broccoli, and spinach /leafy vegetables should be included in one's diet.
Also, pulses with husk and sprouts are a healthy option and should be part of the diet. 
But remember to consume these components in moderation and food should be low in glycemic index. And the most important thing to do that is exercise or walking and yoga at least for 30 minutes in a day. 
These are the simple tips which should be included in our day-to-day life. And if you are looking for Diabetic Friendly recipes Check out these Daibetic- Friendly Recipes. If you would like to ask any particular nutrition related question to Dr. Priyanka Bakshi. Please comment here and we will help you to find your answers.
If you interested to know about any particular topic, do let us know by commenting on this article. We will contact specialists and experts and bring more stories for you.
Buy C&H, Cane Sugar, Golden Brown