A wood-fired oven, also sometimes called a brick oven, is an oven that uses wood and fire to cook food instead of gas, propane, or electricity. This method of cooking food dates back to thousands of years ago, and is seeing a renaissance in today's world.
Pizza is an international favourite that's only made better and more authentic when baked in a Vitcas wood-fired oven. Many restaurants and chefs swear by this technique to bake the perfect pizza.
It's Faster
While it's true that you'll need to fire up the oven a few hours before you put in your pizza, cooking is incredibly quick once the heat gets going. Most conduction ovens for home use only go up to around 450F, which bakes pizzas in around 20-30 minutes. A wood-fired oven, on the other hand, can reach upwards of 600-900F, and can have your pizza ready to eat in under two minutes.
It's Healthier
Pizza can be chock-full of nutrients thanks to healthy veggie toppings like onions, mushrooms, or spinach, but long cooking times can reduce their nutritional content. Wood-fired ovens bake pizzas much quicker, which means you still get to maximise their health benefits.
If you want to be even healthier, making your own pizzas means you can swap out the usual ingredients for much better alternatives. Opt for whole wheat instead of white flour, or try out a cauliflower crust! You can even make gluten-free and vegan-friendly pies.
More Flavour!
Get the real Italian pizza experience with this ancient cooking method. Most people can attest to the fact that these ovens make pizzas that are crispy, delicious, and moist. Because of the higher baking temperature, the crust is cooked evenly through without burning the toppings or edges. This also helps all the flavours bake together, enhancing each ingredient's taste.
It's Economical And Environment-Friendly.
Wood-fired ovens can help lower your energy costs since they don't run on gas or electricity; since it's off the grid, you can still use the oven during power outages. You can cook multiple things at once, making it an excellent choice for families or large households. The oven also stays hot long after the fire has been put out, so you can still roast and cook food without burning additional wood.
It's Versatile – outdoor or indoor use of the oven.
There are different techniques for cooking with a wood-fired oven, which means that you can make more than just pizza. You can roast vegetables, make bread, or even cook fish. This oven is a multi-purpose tool that you'll often use, no matter what the dish. Some homeowners will construct large outdoor ovens, but you can also go for a smaller, indoor setup. There are even portable ones you can set up anywhere, any time.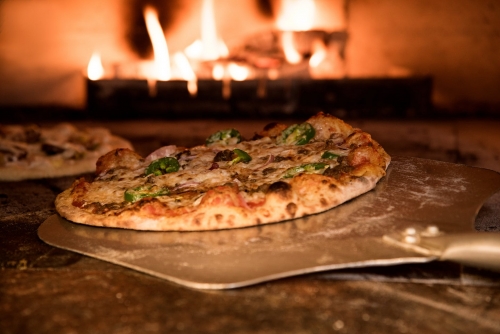 A wood-fired oven is an excellent addition to any kitchen, especially for pizza enthusiasts. You'd be hard-pressed to find another oven that produces the same authentic, high-quality results. This time-tested technique makes delicious, healthy pizza without harming the environment—or your wallet.