People born in the 80s would remember a novelty kitchen appliance which made Rasna taste even better. Mr Butler reintroduces the soda maker in a new sleek and compact design. But does it make good soda? Let's see.
Design:
For today's shrinking apartments where space is a premium specially with Dining room's disappearing and living rooms eating into the kitchens, this is a compact and portable space-saver. Sleek and moderately light weight, it would go unnoticeable on any corner on the counter or can be stashed in one of the under counter cabinets. With no wires, as it requires no electricity or batteries, it can be used and stowed away anytime. It comes in elegant black and modest grey/white colours. The PET bottle is made of good sturdy quality BPA free plastic.
Working/Operation:
With a single push down operation, the appliance is extremely easy to use. Just fill the bottle with cold water (the colder, the better) and push down the top panel to start the soda making process. It takes literally few seconds to create a bottle full of fizzy soda.
Pros:
Compact and sleek design, without burning a deep hole in your pocket. Simple one button operation, No electricity or batteries required.
One CO2 cylinder makes about 175 glasses (or 35 litres) of soda, as purported by the company. With a little bit of Math, this works out cheaper than buying equivalent quantities of club soda. Soda can be prepared fresh without the downside of it losing fizz when stored in the refrigerator.
In today's urban lifestyle, it is perfect for entertaining guests and hosting parties. You can try out a variety of new mocktails/cocktails rivalling the best pubs in town, right at the comfort of your home. You can also control the amount of fizz in your soda as well to suit individual's liking.
The real USP of this product is the health benefit – you can make a number of refreshing mocktails and get over yours and your kid's addiction to unhealthy soft drinks which contain copious amounts of sugar and are directly related to obesity and weight gain. There is nothing better than fresh fruit juices, but adding soda gives them a unique fervour and makes it appealing to the taste buds. Kids will absolutely love this. This also helps in reducing your carbon footprint, with a reusable PET bottle, our planet will breathe a bit easier without the plastic and aluminium waste from soft drink and soda bottles and cans.
Cons:
I do wish the 500 ml PET bottle was included as well (it is available separately), apart from the 1 litre one to make less soda when required, to avoid storing left-over in the refrigerator.
The 1 litre bottle fits in snugly into the sodamaker and can be slightly difficult to remove at times.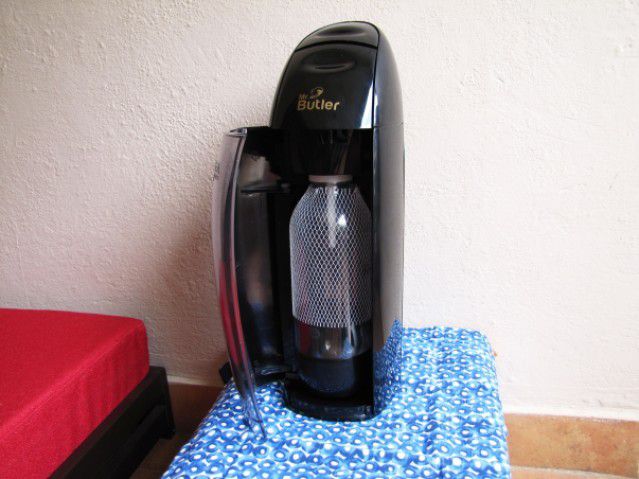 Bottomline:
The health benefits alone make this product a smart buy. Priced around INR 3500 in India, it doesn't burn a hole in your pocket while adding a new dimension to your kitchen.
Our verdict: Go for it!
Overall rating: 4.5/5
Recommendations:
We made a grapefruit cooler and a virgin mojito using the sodamaker. The drinks were ready in literally 2 minutes!