Most of us take time to figure out where we're headed in life.  Some of us even wait until graduation day to even decide what field we're going to take a leap into. Not Saransh Goila! At 12, he already knew what he wanted and that alone is impressive beyond doubt. Now 29, Chef Saransh has already won several competitions, written a book, hosted TV shows and entered the Limca book of Records for the 'Longest road journey by a chef'. Inspite of all the fame and recognition at a relatively young age, Chef Saransh is modest and down to earth and perhaps for this reason, is popularly called as Sadak Chef.
What makes him such a charmer? Did you know he once weighed 95 kgs? What's his story? Plattershare caught up with Chef Saransh amidst his busy schedule to find answers for these questions. Read on to find out more about India's first Super Chef.
The Early years
From around 12-13 years of age, the teenage boy instantly knew food was the direction he wanted to take. "The confusion was between my passion for food and my passion for acting but in the end I was lucky enough to have both. But after I completed my B.A. Honours in Culinary Arts in 2008, I was too much into cooking to think about anything else," he said.
Run, Run, Run – Weight loss and his fitness mantra
Chef Saransh was inspired by his professor at IHM Aurangabad who pushed him towards a healthy and confident lifestyle. Even though he was reluctant at first and did not appreciate the idea of early morning runs, but could not say no to his Guru and within a few weeks the results were there for everyone to see. "In today's times, it is very important to groom yourself and be fit," says Chef adding that "It gives positive vibes." He started with a daily 20-minute run and gradually increased it to 1-hour and lost 28 kgs of weight. For diet he never did traditional "dieting" but switched to a No-Carb-dinner diet which he fondly calls as a "Sabzi Diet" where dinner is comprised of only sabzi and daal which was served in his institute (No fancy stuff). Even now, with his added celebrity status which means that he has to eat out often, be social and attend many culinary functions, he tries to maintain the sabzi diet for atleast 3-4 days in the week. Lunches include protein rich food- 4-5 eggs, paneer, chicken, daal and rice whereas breakfast is a healthy bowl of ragiflakes or cornflakes. With his busy lifestyle, running is now almost impossible but he continues with his body toning exercises minimum 4 days a week.
His career turning point
"I was training in Taj Kitchens for 6 months and that was a hectic and nerve-wracking experience for me, But it wasn't enough for me. So in order to get a deeper understanding on Indian tastes and flavours, I started working with The Leela Kempinski in Bangalore in 2009," said Chef Saransh. Becoming the Brand Ambassador for Bergner, Austria proved to be a huge opportunity for the young chef. After that, he was given an opportunity to work with the Food Food Channel and then Roti, Rasta aur India happened.
Roti, Rasta aur India and a Record
"Yes, I worked with the Food Food Channel as the Anchor and Food Consultant. I had a show titled Roti, Rasta Aur India, which later came to be India's biggest food travelogue show. I had travelled 20,000 km's in 100 days to discover the huge and dynamic food heritage of India," says Chef Saransh. The 20,000 km journey earned him a place in the Limca Book of Records for the 'Longest Road journey by a chef'. It also made him more curious and the rich experiences translated into his debut book titled "India On My Platter".  "You could say that it's both a travelogue and a memoir in the sense that it not only captures my experience in 60 cities, but also my roller coaster of a journey in trying to recreate their cuisines. It was launched only last year in July, and there's been so much fanfare. It's extremely overwhelming," he said. The book has tons of food stories, and food tales along with a unique collection of recipes picked up through his travels. The book is available on Amazon India.
The Spice Traveller web series
Chef Saransh also hosts the series: "The Spice Traveller". It's a web series that chronicles his travels to different parts of the world to spread lots of love and awareness of spices. "It lets me be a part of lots of novel cuisines around the world, and gives me the opportunity to spice them up," he says adding that, "I equally adore Italian, and bakes and confectionaries. I mix it up a bit to keep it interesting for both myself and the youth."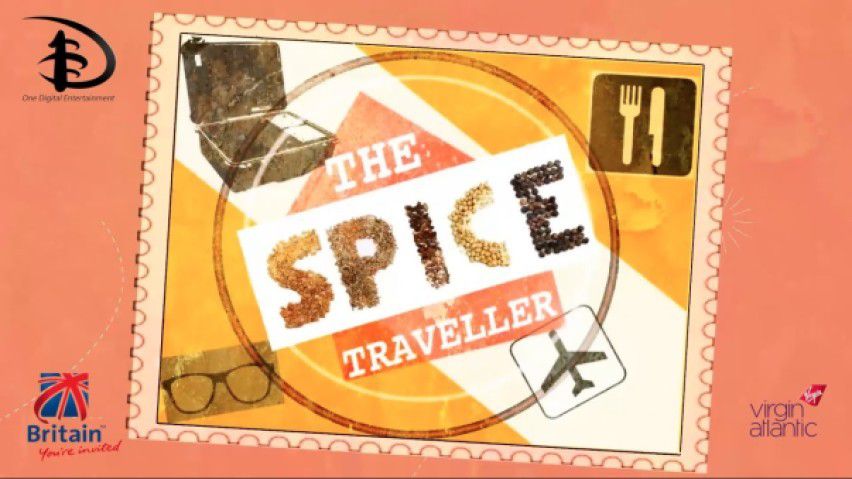 Chefpreneurs – Do Chefs make good entrepreneurs?
Chef Saransh believes that it's high time that chefs who are artists too and create magic in the kitchen, should unleash their entrepreneurial potential and start their own ventures. He feels excited when he hears news about a chef starting their own business. Because an artist can create ideas and when he takes control of them then creativity is not stifled for commercial gains. When a restaurant venture starts, people associate that with the brand, and when the brand is the chef himself people are assured of the best quality and look forward to it. "These ventures would definitely grow especially for the chefs who have good business acumen," says Chef Saransh.
And Finally……………. Goila Butter Chicken
This is the venture which he is secretly working on and was a surprise to his veg family who questioned the need for butter chicken when there were so many other things to sell. But he feels that this was the demand from people and people wanted it to happen because this is an old and authentic recipe which any Chicken lover would love to taste. Even though the venture has not yet started, he can sense the excitement and love for it. Chef Saransh loves making regional and contemporary dishes which would also be a part of this online food delivery venture but Butter chicken would be the USP. It is scheduled to launch in April 2016. Watch out Chicken lovers. Watch these videos for some of the Chef's takes on the popular Indian dish.
Koyla Butter Chicken
Healthy Butter Chicken