"Namak Shamak Namak Shamak Dal Datey Hain" sings the heart of home chefs across the globe as they prepare a hearty meal for their loved ones !! Just a pinch of salt and it does wonders !!"
We bet, when you sing this jingle you picturise the Celebrity Chef Harpal Singh Sokhi who rules the hearts of so many Home-Chefs. The fun-loving, humorous, witty yet extremely grounded Chef who pours his heart into cooking has made cooking so much fun that putting salt (namak) in your dish feels like creating magic! Team Plattershare, got a golden opportunity to interview Chef Harpal Singh Sokhi and know about his hidden cooking treasures, his life and how he changed the whole culinary world with just one line "Namak Shamak Namak Shamak Daal dete hai"!
Tell us about the untold story of a boy from Kharagpur becoming the Celebrity Chef Harpal Singh Sokhi.
Well, it is an interesting one to hear this. As a child when you were born in Kharagpur during the 70's and 80's, once could only think of two streams; either become an engineer and join IIT Kharagpur or a Doctor. The last option was a secured job in the Railways. While I was preparing my second attempt for IIT's, my elder brother thought that Hotel Management was a good idea and in times to come it would grow. I thought it was absolutely right. I joined Hotel management with no clue of what it was all about as we had no one in the family who knew of anything about this line. However, as I went ahead and joined the hotel school, within the first three months it was decided that I could only become a CHEF. It felt like GOD's indication that I should pursue this course. Since then, there was no looking back. Years passed by and I stayed focused on what I was doing. Lots of hard work professionally and a passion deep within my heart lead to where I am today. With loads of love from people across the world, I feel blessed and humbled.
The most recent statement from an old Maharashtrianlady whom I accidently bumped in a mall, "Tu Garibancha Chef Ahey, Tu saglyan cha Chef ahe" :- Chef of the masses and poor, Chef of the people, humbled by so much love I cannot but thank God and my brother, parents, my family and everyone who have put me up here on this platform.
Tell us about your two Ustads – Ustad Habib Pasha and Begum Mumtaz Khan who taught you about Hyderabadi cuisine. How was the complete experience?
As the journey of a Chef began so did the hunger for learning new things every now and then was felt from deep within. It was only by chance that I had moved out of Centaur Hotel, Juhu Beach to explore bigger and better opportunities in the world of Culinary. I joined a restaurant which was the first of its kind in Mumbai Colaba Causeway called Vintage. It was there that I met Ustad Habib Pasha who was a master of Hyderabadi Cuisine. I had joined as a World Cuisine Chef, however, was always intrigued by what Habib Pasha would do every day. Loads of spices from his special spice box would be taken out and a special person would blend them and cook the special Kachey Gosht ki Biryani. I still remember people would queue for the biryani outside the restaurant. That is when I realized that I must master this art. However, all our old Ustad's had this habit of not disclosing their secrets and the names of the herbs. So one fine day I took all the herbs in small packets and went to a Sadhu baba whom I observed every Sunday. There I learned all the value of all herbs. Back to the kitchen when I shared my newly acquired knowledge on herbs and their qualities, it was then that Habib Pasha bowed down his head and started teaching me all the great qualities of Hyderabadi cuisine. However, there was a limitation in what I was learning and I had to acquire more knowledge of Hyderabadi food so I came across Begum Mumtaz Khan who belonged to the Jagirdar family of the Nizams. It was her duty to manage the Royal Kitchens during the Nizams day and she continued her passion by teaching people who she thought had the passion for learning. I went ahead and lived in Hyderabad for a couple of days and worked along with her in the kitchens and around ancient Hyderabad to master the art of Hyderabadi Cuisine. I am still not a master but I can say that I carry the rich knowledge of a great Royal Cuisine India has.
You hosted the first episode of Khana Khazana, How was the experience? And how has the shooting experience changed from that time to the current Turban Tadka?
Well, I still remember when I was supposed to shoot for Khana Khazana, it was a battery of Chefs who had already shot and I was probably amongst a line of twelve Chefs who had already shot before me. I still remember it was 23rd of September and Mumbai was flooded. I had slept the whole night at the  Churchgate station as trains were not working due of heavy rains. Next morning, as the trains started, I caught the first train back home, got ready and went to shoot for Khana Khazana. It was purely by my style of presentation and ability to display my cooking skills, the channel decided that the show will be launched with me and I hosted the first episode of Khana Khazana. I was shortlisted to do more shows, however, I thought I was not ready to share the little I had and I moved on to enhance my professional career. It was only in the year 2010 when I got another chance on FOODFOOD to host a regular show which would be focused on me, I decided to seriously give it a shot. I did a lot of homework on making the show different from a tutorial show. I had to bring in fun, humor, Namak Shamak and then it was history. Today millions of people from across the world are charmed by the simplicity of salt and everyone tunes in to 'Namak Shamak Namak Shamak dal detey hain' whenever they hold salt. It is a simple way of spreading happiness while you are cooking.
Tell us about your experience in conceptualizing Chocolate Mithai and diabetic friendly Indian Desserts.
Well, through my experience of being employed in various organizations, I got this chance to work for a large FMCG company to develop Chocolate Mithais. It was an enriching experience where I visited a chocolate factory to understand how chocolate works in a factory and how people work in a factory and then develop chocolate. This learning brought in various options of chocolate Mithai. It was a great team effort that gave me an experience of understanding how things work at a large scale. So I can proudly say that making 5 tons of Kaju Katli would be easy for me in an automated process. Similarly, years of experience also gave us(me) opportunities to work for FMCG companies who are always on the lookout for people who can develop recipes for diabetes and cardio patients. All this helped us(me) understand hospitality beyond the regular routine work that we do in hotels and such things are challenging and exciting at the same time.
When Ayurveda, modern medical science, food, and nutrition is mixed a new innovative dish is made. Can you name some unique and completely balanced dishes which should be included in daily life?
Actually, ayurvedic cooking exists in our country since the beginning of time. Our ancestors, mothers, all have been following the principle in our daily food habits. Our parents knew exactly about seasonal foods, remedy from foods and blends of foods so that they don't react in our body.  This is something I keep learning every day and understand the vast culinary treasures our country has to offer.  I keep working closely with Dr. Onkar Bilgi whom I consider an authority in Ayurvedic food. I remember having created a simple Mirchi ka Halwa in my restaurant Twist of Tadka. After tasting the same in my restaurant, Dr. Bigli's first reaction was that a perfect Ayurvedic recipe had been created to digest the heavy food Indian food that we eat in restaurants. My creations like Beetroot Amley ki tikki was another kabab that is a perfect example of Ayurvedic food, we created for our Restaurant Twist of Tadka.
When it comes to home cooking it is very important to understand seasons, availability of products and use them in your daily life. A simple tempering of cumin on chaas helps in summers, turmeric milk with little black pepper is a boon during winters. These are simple food science that has been followed for ages by our mothers and grandmothers.
Which cuisine is closest to your heart? Is it Punjabi or Hyderabadi or something else?
I think food in totality is close to my heart. I love cooking at any point in time. It is good food, great ingredients that excite me to cook. The kitchen is something that I am passionate about. I love to explore more and more, apply a simple philosophy of cooking food with ingredients that balance well and taste well. The science of cooking could come across from any cuisine and from anywhere in the world.  It is by pure coincidence that I am Punjabi Sikh and mastered the art in Hyderabadi food so people relate me closely with these two cuisines, however, the world is my Culinary Treasure and I keep exploring it.
You are known to innovate, whether it is in your ventures or shows. How did the famous "Namak Shamak" line come about?
Yes, 'Namak Shamak Namak Shamak Dal date hain' has become popular across the world and not just in India. Even non-Indians love to sing the jingle as I hear from them on my social network. Not just people who love food but I also hear that Johnny Lever imitates me in his live shows, what an honor for a Chef!!
It simply happened, while shooting I would always remember my Mom and how she would cook alone for a complete family without any complaints. Rather it would be the children who would complain about the food. How can someone cook food so religiously for 365 days, without missing on a day and every time the food would be delicious? It can only come from the pious hands of a mother.
Just before I began serious television, I remember that the new generation would not be interested in working in the kitchen. That is when I thought that something has to be done in the simplest form which would bring laughter, charm, and happiness when you are cooking alone and what best when you holding a pinch of salt and singing the jingle 'Namak Shamak Namak Shamak dal detey hain'.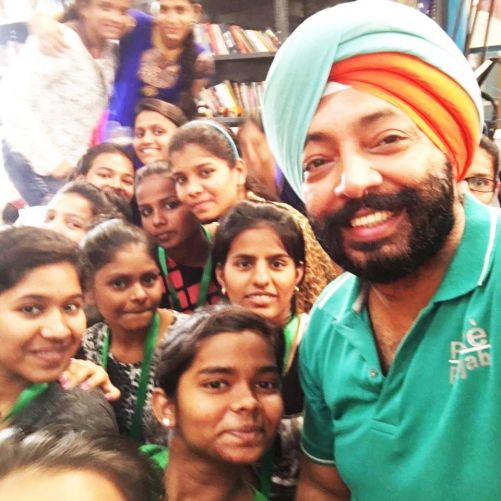 How are TV Shows different from YouTube shows? Any Tips for V-bloggers who want to start their own Youtube channel.
Well, TV shows and Youtube shows are currently in a different genre. Youtube is more tutorial and TV shows have been built around a character and artist. However, in times to come as tutorial clutter around youtube, a few things that would work are television only (?), web series, characterization on YouTube and fun would come in. You have to be different in time to come on internet  too.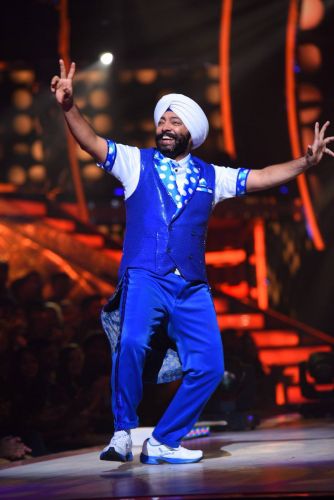 What's next? (Any new upcoming ventures/shows?)
We have our restaurants coming up soon. I have tied up with Yellow Tie hospitality brands to grow my chain of restaurants. Very soon we are launching two of our brands called Dhadoom and Twist of Tadka. I already have Twist of Tadka running in Amritsar and Bangalore, however we have a whole new revamped Twist of Tadka coming.
How would you inspire the aspiring Plattershare Home Chefs? 
When it comes to cooking it has to come from the heart and one should be passionate about doing things. I wish all the best to everyone involved in spreading the love for good food.
To follow Celebrity Chef Harpal, like his Facebook Page, follow him on Twitter and subscribe to his Youtube channel.
Loved this inspiring story of Celebrity Chef Harpal Singh? Do Share your comments. Want Plattershare to publish the story of your favorite Chef? Drop us a mail at [email protected]