Recipe Taste
Not Specified
Yield / Serves
12 Servings
Whole wheat, chocfilled center, eggless chococookies. Kids favourite cookies!
Whole wheat flour – 1 Cup
Coco powder – 1 Tbsp ( good quality
Unsalted Butter – ¼ Cup
Egg Substitute – 2 Tbsp ( in 2TBSP water add 1TBSP oil and 2 tsps of baking powder
Vanilla Essence – 1 Tsp
Broken Chocolate Chunks – 3 Tbsp – for stuffing
Bring ingredients to Room temp. Cream the butter and sugar.
add in the egg substitute and vanilla essence and the flours till well combined
Make small balls, fill in the broken pieces of the chocolate chunks, cover and flatten( similar to modaks).
Do this for the entire dough and bake on a lined tray at 170 deg for 15 min or till done!
Enjoy these warm with a glass of milk 💓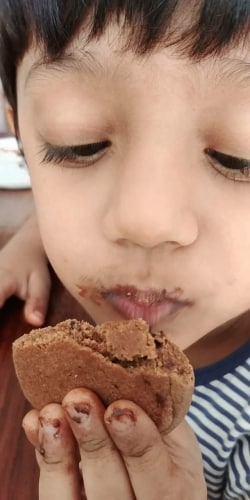 Can be converted to eggbased recipe. Just replace the eggless mixture with egg!
Goahead, get creative and make any type of ganache of your choice, kids will be excited to bite into the molten center👍
How useful was this post?
Click on a star to rate it!
Rated 4 based on 1 votes
Be the first to rate this post.