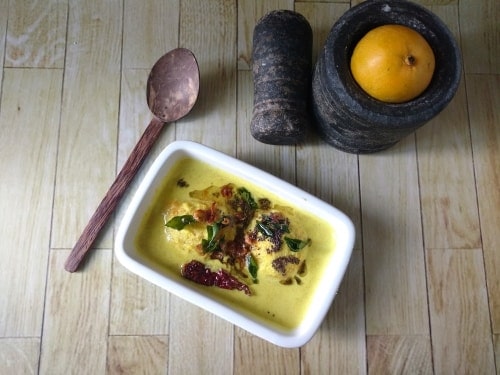 Kerala Style Ripemango Curry
12 March, 2018
The kerala style Ripemango curry is one of the favourites in God's own country during the summers, when the mangoes are in plenty. The kerala style Ripemango mango curry has a subtle balance of sweetness and spiciness required to give your taste buds a tingle and should ideally be had with the kerala boiled rice.
Ingredients
Small Ripe Mangoes - 5-6

pealed. Donot remove seed as it's cooked whole.

Salt as required

Grated coconut - 1 cup

Jeera - 1/4tsp

Garlic - 3cloves

Small onion - 10

Green chilly - 3-4

Turmeric powder - 1/2 tsp

Whole Red chilly - 2

Mustard - ½ tsp

Curry leaves

Coconut oil 2 tbsp
Instructions
Cook the peeled mangoes with salt and 1 -1½ cups of water for 10 minutes

Grind together coconut, jeera, garlic, 3 small onion, green chilli and turmeric powder with ½ cup of water to a fine paste.

Add this and ½- 1 cup of water to the mangoes. Check salt and add more if required

Cook for 5-7 mins on low flame, but donot let it boil. Remove from fire.

Heat oil in a pan and splutter mustard seeds. Add sliced small onions, red chilly & curry leaves. Fry it till the onion becomes golden brown. Pour this over the curry. Let it rest for a while for the flavors to settle in.

Serve with kerala brown boiled rice or any other rice of your choice.