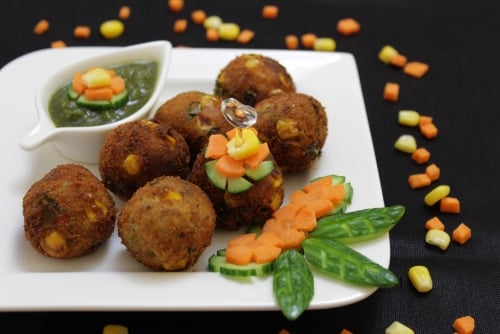 Veggie Power Balls
Veggie Power Balls is a favourite recipe among children.It consists of veggies, almond meal, cheese and potato. It is not only easy to prepare but also.has a good nutritive edge of the veggies, almond meal and cheese. If the balls scatter or split in oil, do not fret, just add a little more binding or heat the oil well.Veggie Power Balls are loaded with the goodness of minerals, vitamins,fiber and protein essentially needed for growing children.
Ingredients
Boiled potato 1 large peeled and mashed

Almond meal or almond powder 1/8cup

Corn kernels boiled or tinned 1/3 cup

Onions 1/4 cup finely chopped

Carrot 1/4 cup finely chopped

Capsicum 1/4 cup finely chopped

Cheddar cheese 1/4 cup grated

Garlic powder 1/2 teaspoon

Ginger powder 1/2 teaspoon

Coriander leaves a few finely chopped

Salt to taste

Garam masala powder 1/2 teaspoon optional

Black pepper powder 1/2 teaspoon

Oregano powder 1 teaspoon

Cornflour 1 heaped teaspoon

Breadcrumbs 1/2 cup or as needed

Oil for frying
Instructions
In a wide vessel mix together boiled and mashed potato, almond meal, corn, onions, carrot, capsicum, coriander leaves and cheese

To this add dry spices such as salt, black pepper powder, garam masala(if using), oregano powder, garlic powder, ginger powder and salt.

Add the breadcrumbs and cornflour.

Now mix the whole mixture nicely till well combined.

Grease your palms and form small balls with this mixture.

Roll the balls in breadcrumbs.

Keep these balls in the fridge for 20 minutes . Or else you can them at once

For frying heat the oil well and fry the balls till crisp.and golden brown In colour.

Drain the balls on absorbent paper and serve hot with chutney or ketchup.