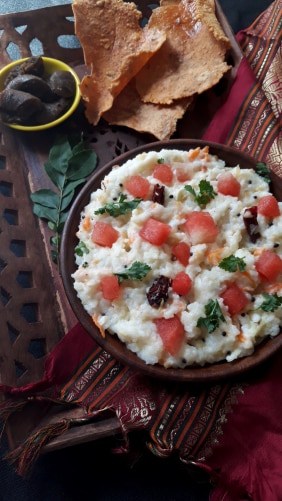 Nadaru Thayir Sadham / Curd Rice
Nadaru Thayir Sadham / Curd rice A perfect South Indian Style one pot meal. It uses the simplest ingredients to create a quick, refreshing and comfort meal. It is great to have when your stomach is unwell. And best to have in summer because of its soothing and cooling properties. And it is easily digestible. It is the most loved coolant dish in South India. I am sure you might be wondering, why do we need a recipe for curd rice as many of you would be having it on daily basis. But I guess there might be a few people who have no idea how to make a perfect curd rice. One more reason why i have written a recipe for 'Nadaru Thayir Sadham' is that, it's a very popular party dish among my friends. This meal can also be your savior on no cooking mood days. You can always use your left over rice for making this. So I had to share it 🤗🤗 because of its versatility 😋😋 as it can be eaten simple and can also be prepared as rich as to make a party meal.
Ingredients
For preparation; Rice 1 cup

Milk 1 cup

Curd 1 cup

Ghee 1-2 tsp

Salt to taste

For tempering;

Ghee / coconut oil 2 tablespoons

Mustard seeds 1 teaspoon

Split black gram 2teaspoons

Generous pinch of asafoetida

Chopped green chillies 2

Adjust according to taste

Red chillies 2-3 broken

Adjust according to taste

Grated ginger 1 teaspoon

Few curry leaves

Grated Carrot 1/4 cup

Grated coconut 1/8 cup

Grated mango 1/4 cup

Grated cucumber 1/4 cup

Watermelon

chopped in small cubes

Chopped corriander
Instructions
Wash the rice and pressure cook with 3 cups of water for 3-4 whistles in medium flame. We want the rice to be mushy.

Once done, mash the rice well. Pour the hot milk and add ghee or butter when the rice is hot and mix well. Grate And chop vegetables and keep them ready.

Now to prepare the temper, heat oil and add mustard seeds, when they begin to splutter, add split black gram, green chillies, broken red chillies, asafoetida.

Now add curry leaves, ginger, then add carrots and saute well. Then add coconut, mango and saute. Switch off the flame.

Curd rice taste great with some potato sabji, pickles, papdams and sambar.

If you are making for lunch box, travels, picnic or parties, i mean for making many hours in advance, then increase the quantity of milk and reduce the quantity of curd and keep it to a loose consistency.

You can use any variety of white rice like basmati rice, Sona masoori rice also brown rice for this recipe.

You can also make a sweeter version of curd rice with the addition of fruits like grapes, ripe mangoes, bananas and pomegranate arils.
Notes
Never use hand for mixing if you are preparing this to have later.
Never add curd to the hot rice. It will leave some water and you will see the rice and curd separate, which is not good for your stomach.
Add cucumber and watermelon in the end just before serving.