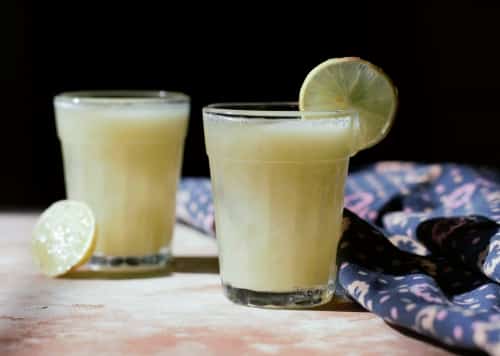 Gourd Detox Drink
4 April, 2018
Gourd detox drink is a healthy summer drink to detoxify the body. It is a great thirst quencher. The two gourd veggies I have used in this drink are ash gourd or winter melon and bottle gourd or lauki. Ash gourd contains 95% of water and this helps the body to be hydrated during summers. It has many other health benefits like antimicrobial activity against bad microbes in stomach and intestine, helps in weight loss, loaded with vitamins and minerals. Bottle gourd also has similar health benefits like helps in digestion, has cooling effect, helps in weight loss, lowers cholesterol. This drink is flavored with ginger, honey and lemon juice. It is so simple to prepare, let's see the recipe of this incredibly beneficial summer gourd detox drink.
Ingredients
Ash gourd pieces

deskinned and without seeds ¾ cup

Bottle gourd pieces

deskinned and without seeds ½ cup

Ginger pieces ½ teaspoon

Honey 2 tablespoon

Lemon juice ½ tablespoon

Salt as per taste

Water as required
Instructions
Take a blender, add ash gourd pieces, bottle gourd pieces, ginger pieces and make fine paste.

Add honey, lemon juice, salt mix well.

Add water as required, pour into glasses and serve this healthy summer cooler.
Notes
Fine paste of gourd and ginger can be sieved with fine mesh and then can be used.
Lemon juice, honey and salt can be added as per taste.