If the aroma of brewing coffee excites you then knowing How Much Caffeine is in your Cup of Coffee is a good start to become a coffee connoisseur.
And if you are someone who can't open your eyes in the morning without your favorite cup of hot coffee and subsequently likes to have many cups of that in a day you are on the right page.
Caffeine in coffee reacts with our nervous system and relaxes our body, helps in making you more alert and exorcizing sleep bouts especially when you are working to meet a deadline. But there is always a line that has to be drawn between excess consumption of coffee leading to excessive caffeine in the body that can have some serious repercussions like too fast heart rate that can be fatal!
Too much caffeine can also cause insomnia, anxiety, and restlessness other than heart palpitations. However, limited use can be beneficial as well for boosting memory, concentration and mental health.
Caffeine Content Determinants
Before understanding how much caffeine is safe for daily consumption you must be aware of the factors that affect the amount of caffeine in your cup of coffee
Type of Coffee Beans: This is natural factor; Coffee Beans can vary in their shape, size, color and flavor depending on the conditions and region they are grown in. There are various varieties of coffee beans available that can have different amount of caffeine in them but broadly they are categorized under two classes:
Arabica: 60% of the coffee produced all over the world is Arabica. Arabica bean consists of 0.8-1.4% caffeine.
Robusta: Rest of the 40% of coffee production falls under this category. They consist of 1.7-4% of caffeine.
Process of Making: The caffeine content varies significantly depending on the process of making. You can either simply brew your coffee powder with hot water or make an espresso with it. A normal brewed coffee has far more caffeine than the espresso.
Roasted Beans: When harvested all the coffee beans are green, to prepare them for brewing they need to be roasted. They are roasted in dry heat. Roasting the beans for more time makes the flavor intense. They can be roasted from anywhere between light, medium, dark to black. The dark roasted coffee beans have lower caffeine as compared to the lighter roasted beans. Sometimes manufacturers even use a blend of different level of roasted beans to achieve a unique taste.
Serving Size: This factor is very obvious, if the serving size is large the caffeine content would also be more.
Now that you know that choosing the way you prepare your coffee and which coffee to buy makes an impact let's move on to understanding how much caffeine is there in one cup of coffee.
How much caffeine is in one cup of coffee?
The major factor here is the type of coffee that you are preparing for your consumption, lets understand this one by one:
1. Brewed Coffee: This is the most common form of coffee that we consume daily. Brewed coffee is made by pouring hot water over ground coffee beans and then allowing them some time to brew. Brewing can be done either using a filter or a percolator or a French press. The resulting coffee from each of these ways is named differently like Drip Brewed coffee, Filtered Coffee, Pour over Coffee. The famous South Indian coffee a.k.a as 'Filter Kaapi' is made by brewing the coffee in a filter and is similar to Drip Brewed Coffee.
Brewed coffee made with any of the methods contains the highest amount of caffeine that can be anywhere between 70-140 mg depending upon the size of your cup.
2. Espresso: The amount of caffeine in an espresso is almost at par or more than that in brewed coffee, however generally it is served in small portions and thus has lower volumes of caffeine. A single shot espresso contains 50-65 mg of caffeine
3. Espresso Based Drinks: There are many drinks that make use of espresso as their base and later get mixed with different types & quantities of milk e.g. Latte, Cappuccino, Mocha etc. But since milk doesn't have any caffeine in it, so the caffeine in these kinds of drinks is similar to the amount in an espresso. Caffeine in a medium serve of espresso-based drink would be approx. 80 mg and a double shot would be about 125 mg.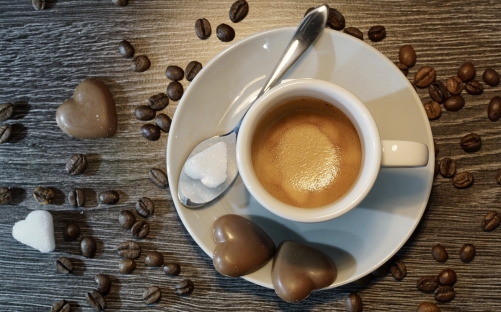 Let's look at them one by one:
Latte: Lattes are the most popular coffee drinks in world, make your latte by mixing espresso with lots of warm milk, a medium serve latte has approx. 80 mg of caffeine.
Americano: Americano consists of espresso and hot water, so again, a medium cup of Americano has 80 mg of caffeine.
Cappuccino: Cappuccino is made with espresso, some amount of steamed milk and lots of foam; this also has 80 mg of caffeine per medium serving.
Mocha: A Mocha is more or less similar to Latte just with some added chocolate either powdered or syrup, its caffeine content is again similar to that of espresso, hence, a medium serve will have approx. 80 mg.
Macchiato: A Macchiato is just a shot of espresso but with a little dollop of milk foam on top of it. It has that super strong taste of espresso with a tiny bit of creaminess. Caffeine in a medium serve of this would also be similar to that of espresso that is 80 mg.
3. Instant Coffee: Instant coffee is nothing but pre-brewed roasted and ground coffee beans that are dried. As the name suggests Instant coffee allows you to make it very quickly to get the right flavor without much effort. You can prepare Instant coffee just by mixing and stirring it with hot milk or hot water. Usually it contains less caffeine than regular coffee ranging from 30-90mg per cup.
4. Decaf Coffee: Yes, even the Decaf Coffee or Decaffeinated Coffee is not entirely free from Caffeine. Decaffeination is done either by washing coffee beans with water, some solvent or carbon dioxide. Later the beans are dried, roasted and ground. But the entire process does not remove 100% caffeine from the beans, but a major part is still removed approx 97 % of total caffeine is removed by decaffeinating. Hence, an average cup of decaffeinated coffee has approx 0-7 mg of caffeine.
What if you drink Coffee Outside?
SO, when you are making your own coffee at home you can be selective in choosing the type of beans, serving size and the preparation method. But what if you drink it majorly at commercial outlets? Here is an understanding of how much caffeine is available in popular brands' popular coffee variants:
1. Starbucks: Starbucks is definitely the most popular and best coffee brand in the world. And it offers some of the most caffeinated drinks. A small shot of brewed coffee at Starbucks contains 180mg of caffeine. And a small espresso is no behind it has 75mg and consequently all espresso-based drinks have the same amount of caffeine. However, the decaf coffee has 15-30mg of caffeine in it.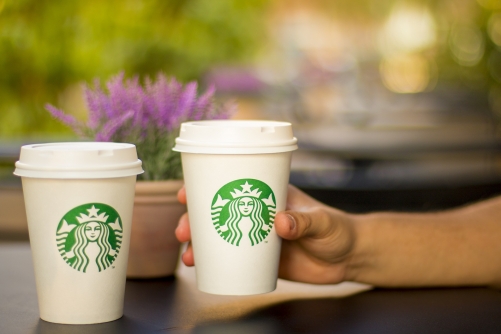 2. McDonald's: A small shot of McD's brewed coffee has approx. 109mg of caffeine and the espresso has almost 75mg of caffeine. However, they do not standardize their caffeine level across all their outlets.
3. Dunkin Donuts: This is another very popular chain serving donuts and coffee across the world. Their small shot of brewed coffee has approx. 215 mg of caffeine and espresso has 75mg of caffeine in it. In fact, their decaf is also on a higher caffeine side as per some studies.
Is there something to worry about?
Coffee is a good source of anti-oxidants and good for health, but the consumption in limited quantities only helps. Generally, most of us are safe to consume approx. 350-500mg of caffeine in a day unless otherwise prescribed. That makes up to 5mg per kg of body weight, this means you can easily have 2-3 cups of your regular coffee drink keeping in mind the above-mentioned facts. But caffeine can have varied effects on different people, while some are very sensitive others can handle much larger amounts. So just decide your limits and enjoy your favorite cuppa ☺
Choose your cup of coffee carefully.
Cheers!
About the Author: Priyanka Gandhi Mehta is a complete Foodie who loves to eat and cook. She shares her passion for cooking on her blog Flavored with love by Priyanka where each and every dish which is cooked is prepared with lots of love. Learning is an ongoing process for her and she learns from all the sources be it recipes from internet, TV, acquaintances, relatives or friends and finally gives her special touch to each dish.
The sound of cumin seeds crackling and the smell of freshly ground garam masala just excites her. Priyanka Gandhi, ever smiling girl loves to be in her kitchen experimenting something new. You can follow Priyanka on her blog Flavored with love by Priyanka, Plattershare or Facebook Page