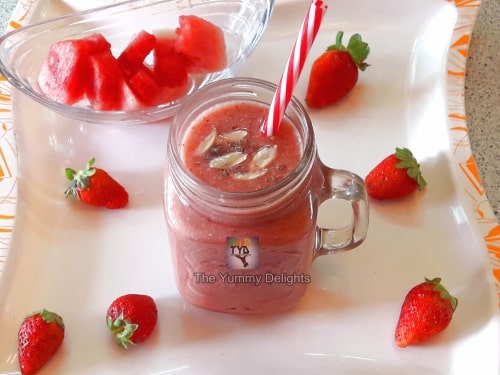 Watermelon & Strawberry Detox Smoothie
Watermelon & Strawberry Detox Smoothie is a good choice if you want to beat summer in a healthy way.
Ingredients
Frozen Watermelon - 2 Cups

Frozen Strawberries - 1/2 cup

Almonds - 6-7 nos

Ginger - 1/2 tsp

Mint Leaves Chopped -1/4 tsp

Basil Leaves Chopped - 1/4 tsp

Ground Flax Seeds - 1 tbsp

Lemon juice - 1 tsp

Honey - 2 tbsp

Coconut Water - 1 Cup

if not available use plain water

Ice Cubes - 1/2 cup
Instructions
Cut the Watermelon in cubes and remove seeds. Put it in Zip Lock bags. Place the Zip Lock bags in the freezer. Once frozen its ready to use. Frozen fruits are good for making Smoothie. They help to make Smoothies thick and frosty.

Soak Almonds in water for 30 minutes. Peel the skin off.
Notes
Try to use frozen fruits. They make the smoothie thick in texture.
Don't increase the quantity of ginger, basil and mint leaves.
You can avoid Basil leaves.
Honey is used as a natural sweetener. You can increase and decrease the quantity of it as you like.
You can use plain water instead of coconut water.
Serve immediately.