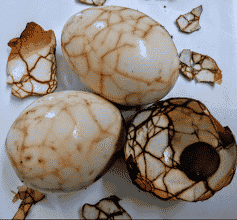 Chinese Marbled Tea Eggs
These eggs have a subtle flavour and look lovely too!
Ingredients
4

eggs

6-8

cups

water

2

peppercorns

2

cloves

1

teaspoon

salt

1

teaspoon

sugar

3/4

cup

dark soya sauce

1

stick cinnamon

1

star anise

2

tbsp

any strong flavor tea

1

tbsp

candied orange peels cut into strips
Instructions
Boiling the eggs - Take the 4 eggs in 6 cups of water in a heavy bottom pan. Keep on low flame for about 12 minutes. Switch off the gas and put the lid on for 10 minutes.

Remove the eggs after 10 minutes with a slotted spoon and wash under running cold water till they cool down completely. Gently tap the eggs with the back of a spoon so that to make small cracks all over The shell should not break.

Even if it breaks a bit in some places it will do. The color intensity will be a bit more in that place. We need to get a spider web sort of a design all over

Put the water back on the gas and keep on low flame. Also, add all the rest of the ingredients except the eggs and bring to a full boil. Add the eggs very gently and simmer them on low flame for 1 hour.

The eggs should be dipped completely in the liquid. Keep on adding little water to maintain the water level, just above 1 inch of the eggs. After 1 hour, switch off the flame.

Put a lid on and let it sit for about 5 hours or even overnight. Remove from the liquid and dry off gently with a tissue. Serve by cutting in half. Pls note- Patience is the key.