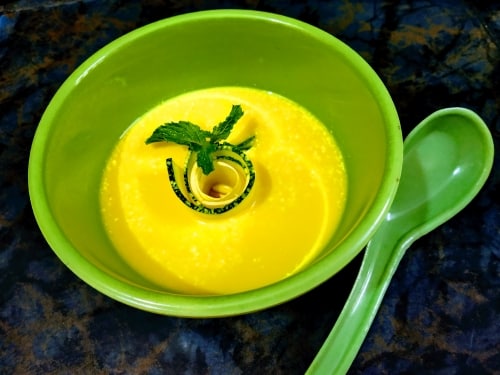 Keto Sunlight Yellow Pumpkin Soup
If you are looking for a delicious ketogenic soup you can make this beautiful sunlight yellow soup. There are different stages of pumpkin, young pumpkin is light yellow in colour and the colour gets darker as the pumpkin matures. If you use a green pumpkin you can add little turmeric powder and it also has antibacterial properties. I have choosen pumpkin to make the soup because it has low carb which is effective losing weight. To make the soup more creamy and delicious I added coconut milk. I prepared coconut milk from starch. In the first stage I added little boiling water to fresh grated coconut and filtered the thick liquid using a regular sieve. In the second stage I added one more cup of boiling water and filtered the remaining extract which will be less creamy than the one from stage one. In the third stage, I added half a cup of boiling water and filtered the coconut extract for the final time. Mix the coconut milk from the three stages with the pumpkin puree along with some spices.
Ingredients
1

cup

pumpkin puree

1/4

cup

coconut milk

1

pinch

cinnamon powder

I pinch nutmeg powder

1

bay leaf

2-3

cloves

8-10

pepper corn

1

cinnamon stick

1/2

tsp

white pepper

Few mint leaves

Salt to taste
Instructions
At the time of boiling add bay leaf, black corn, cinnamon stick, cloves, turmeric powder and mint leaves.

Now take out cinnamon stick, pepper corn, clove and bay leaves. Make a smooth paste with a blender.

Now heat a pan pour the paste stir constantly. Add cinnamon powder, nutmeg powder, white pepper and salt for seasoning.

Put off the flame and slowly add the coconut milk.
Notes
* If it is young pumpkin add turmeric powder.
* Don boil the soup after adding coconut milk.
* Serve hot soup.
* 1 cup pumpkin puree contains 83 calories, 0.69 fat, 7.1 fibre, 12.7 carbohydrates, 2.6 protein.
* 1/2 cup coconut milk contains 8 grams carbohydrates.
https://youtu.be/sRgI7-5sOhI
Click this link to watch the recipe on my YouTube channel nanan swade geeta.