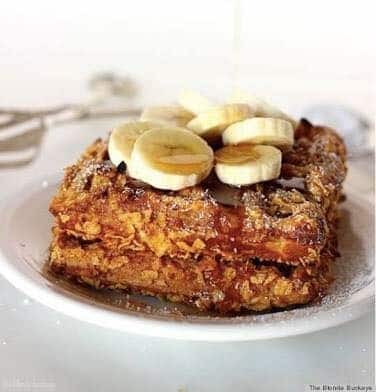 Cereal Encrusted British Sandwich
23 February, 2017
This yummilicious Sandwich will be a super hit on your breakfast table as much as it was on mine. While running my Fusion Cafe in Wolverhampton, UK, this used to be the most popular Sandwich in my cafe. People of all ages love this, as it contains peanut butter, marshmallows to give it a more taste. Moreover, it's very nutritious and healthy as well.
Ingredients  
Bread Slices 2

banana 1

peanut butter 3-4 teaspoon

marshmallow half cup

breakfast cereal

pinch

of salt

All purpose flour half cup

Egg 1

sugar half cup

milk half cup

cinnamon half teaspoon

oil for deep frying
Instructions 
Take the bread slices , spread some peanut butter on both the Slices, place some banana slices on top, spread some marshmallows on the top of banana.

Take a bowl, Put flour,sugar,pinch of salt,cinnamon , egg,milk and mix well upto a pan-cake batter consistency.

Dip the Sandwich into this batter and Coat them with your favourite Cereals or cornflakes. Deep fry them until golden brown.

Serve with banana or ice-cream, top with some Marshmallows.