Have you ever dined in a restaurant and seen a bill of zero rupees? You are intrigued.  "How is it even possible?" Yes it's possible, if the restaurant in question is "Seva cafe". Seva cafe is a restaurant in the city of Ahmedabad, which is a dining experience like no other. Seva cafe functions in the spirit of  "Athithi devo bhavo" . Seva cafe is an experiment which thrives on the goodness present in people and the joy of giving.
"Athithi devo bhavo" is a text taken from a verse of the ancient Hindu scripture titled "Taittiriya Upanishad" and is part of our rich Indian heritage. It means that 'the guest is God' and hence, should be revered by us. For decades, this has been deeply rooted in our minds and is one of the things that unites us,  despite a plethora of cultural, linguistic and geographic diversities in our country. However, Athithi devo bhavo is slowly losing its quintessence as we are getting more and more engrossed in our modern day lives, with no time to devote towards our rich heritage. 
Seva cafe is doing its bit to ensure that this great Indian cultural tradition is not lost, amidst all this globalization and modernisation. It is an altruistic and unique concept based on the principle of gift economy, where your meal is a gift from a stranger and in return, you pay from heart for the meal of another stranger.  At Seva cafe, your bill at the end of the meal always reads 0 Rs. You are free to pay what you want or walk out without shelling out a single penny. Seva cafe teaches the antithesis to accumulation – giving. Their motto is "Living is Giving". 
Seva cafe is run and maintained by the selfless service of volunteers who clean, cook and serve wholesome meals to guests visiting the cafe, unconditionally. It welcomes guests from all walks of life, irrespective of their race, caste, religion or creed. "Love All Serve All!".  Seva cafe has taken the concept of  providing a meal to family or friends to the next level – providing a meal to strangers.The trust that Seva cafe puts in their guests promotes the idea of giving, brings out the goodness in them and thereby inspires people to continue this amazing chain of giving. All the expenses and profits/losses made by Seva cafe are transparent to all. Any profit it makes, is used for some social service. The concept of service before self adds a warmth to food that is usually remiss in other places.
Seva cafe pops once a month in other cities like Bangalore, Pune, Mumbai.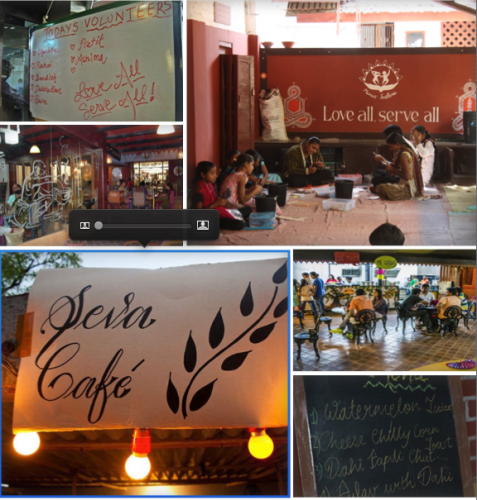 Eating at Seva cafe not only satiates your hunger, but is also food for your soul.  Is only money going to bring us peace? No! At the end of the day, we are all craving for the inner peace, that feeling of doing some good with the life that has been bestowed upon us and being useful in some way and justifying our presence in this universe. Seva cafe gives us a chance to do just that.
New year beginnings are full of people making a resolve to eat healthy and exercise, to make their bodies fit. But, remember that, just being physically fit is only a small, albeit important step in the direction of our whole wellbeing. The  serenity, tranquility, peace and harmony within our soul is the next step. So go ahead and make another resolution to feed your soul! Volunteer at seva cafe or any other good deeds like opening bank accounts for your help, making them a little financially educated about the fixed deposits, mutual funds etc., instilling the importance of education in them. This year invest in any of theses deeds or any other good deed that brings a smile on someone else's face and feeds your soul. 
When we give cheerfully and accept gratefully, everyone is blessed." – Maya Angelou