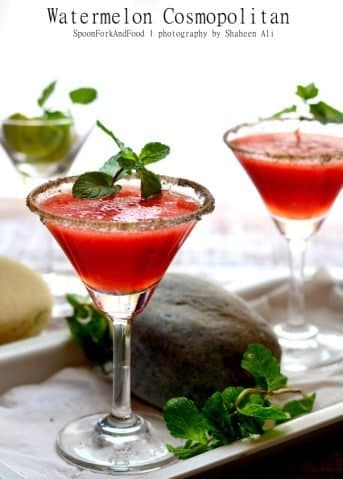 Watermelon Cosmopolitan
23 June, 2016
Watermelon Cosmopolitan is a very refreshing and non-diluted drink that is rich in flavors of watermelon and also gives a gentle kick to your palate. The drink is a perfect option for those who want to treat there guests with a special welcome in this scorching heat. In summers even kids go fussy and demand for new fancy eatables and drinks which at times become a tough job for mothers. Watermelon Cosmopolitan is one such amazing thirst quencher that not just hydrates the body but is also loved by the kids a lot. My son is too fussy in eating fruits, this is why i often keep trying making new fruity drinks for him so that he can enjoy the goodness of fruits as well.
Ingredients  
Watermelon pieces 2 cups

Lemon juice 2 tbsps

Green chili - chopped 1 tsp

Mint - leaves 8-10

Salt 1/2 tsp

Black pepper powder 1/2 tsp

Crushed ice 1 cup
Instructions 
In a blender add watermelon pieces (with or without seeds) and add lemon juice, mint leaves, finely chopped green chilies, salt and black pepper powder along with some crushed ice.

Close the lid tightly and blend them all together.

Strain the watermelon juice prepare through a colander.

Collect the juice and discard the extract collected in the colander.

Add 1 tbsp of lemon juice again and check the salt. You can add more if needed. The salt actually helps out in bringing the sweetness of the watermelon.

Take a martini glass and wipe a squeezed lemon on the rim, this will help to hold the garnish.

Now coat the rim with salt and black pepper and keep aside.

Pour in some more crushed ice and juice in the glass.

Garnish with a mint leaf and serve chilled.