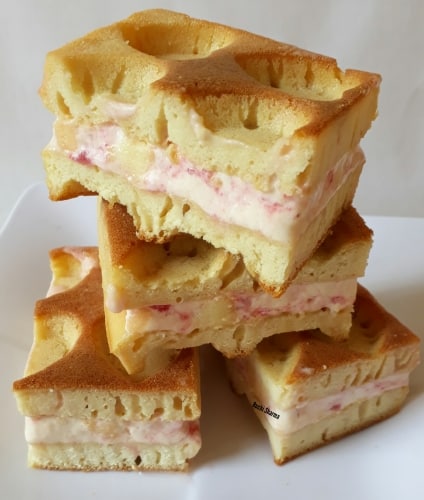 Waffle Ice -Cream Sandwich
15 June, 2018
Looking for an easy dessert this summer? These customizable waffle ice cream sandwiches will be a hit with your family.To make a waffle ice cream sandwich, you can either buy frozen waffles or you can make your own waffles,Same rule apllied for ice -cream as well . The end result is a little bit different with each.In this recipe I am using homemade waffle and homemade strawberry and cream cheese ice-cream. For an easy summer dessert, try this waffle ice cream sandwiches.
Ingredients  
For Strawberry and Cream Cheese Ice Cream:-

Strawberries fresh or Frozen 2 Cups

Cream cheese

softened. 8 ounce

Full fat milk 1 cup

Whipping cream 1 Cup

Sugar 1/2 Cup

Vanilla extract 1Tsp

For Waffle's:-

All purpose flour 1 cup

Salt 1Tsp

Baking powder 1Tsp

Baking soda 1Tsp

Powder sugar 1/4 Cup

Buttermilk 1 1/2 Cup

Unsalted melted butter 1/4 cup

Vanilla extract 1Tsp
Instructions 
Place strawberries in a medium bowl, mash with potato masher until crushed. Set aside.

Preparing Strawberry Cream Cheese Ice -Cream:-

In a large mixing bowl, beat cream cheese with electric mixer on medium to high speed until smooth

Add 1/2 cup of the milk, and beat until mixed well.

Add mashed strawberries, remaining milk, whipping cream, sugar, vanilla extract, and beat until all the ingredients mixed well .

Transfer the prepared mixture to pan.

Cover with plastic wrap and place in freezer to harden for 6 hours, up to overnight.

Preparing waffle's:-

Preheat oven at 200*c for 10 minutes.

In a large bowl seive all the dry ingredients and keep side.

In another bowl whisk buttermilk,melted butter and vanilla extract.

Pour the liquid mixture ro dry mixture and blend into smooth mixture ,without any lumps.

Pour the waffle mixture into silicone mould and bake in preheated oven for 12 -15 minutes.

After 15 minute'stake them out of oven and keep on rack to cool down completely.

Assembling Waffle's:-

Scoop ice cream onto half of the waffles, spreading evenly.

Sandwich with remaining waffles, gently pushing ice cream out to the edges.

Freeze until firm or upto 4 hours.

Cut each waffle into desired shape just before serving.
Notes
If using frozen strawberries for ice -Cream thawed them before use.
Sugar quantity can he adjust according to your taste.
For freezing ice -cream I used bread pan .
If using waffle iron use according to manufacturer instructions.
Sprinkles , chocolate-chips can be used for garnishing.
Waffle sandwiches can be kept in fridge for 2 days.