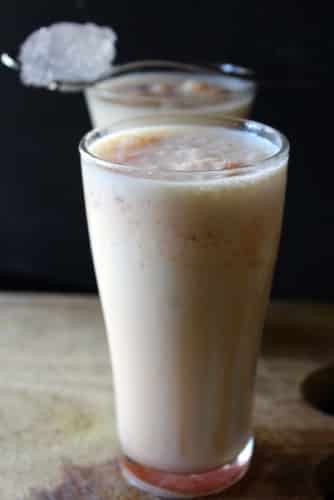 Jigarthanda / Jill Jill Jigarthanda
11 April, 2018
This is a summer special cooler prepared in the city of Madurai in the South Indian State of Tamil Nadu!The name is adapted from Hindi as Jigar means "heart" and Thanda means "cold".So this is a cold relief to a much heated up heart??…no in essence it is a great cooler which relieves stress,heat and fatigue from the body.The drink has got natural coolers which do this. Please refer to the Notes and Tips for further reference!
Ingredients  
4

tbsp

prepared Badam Pisin – see notes

4

tbsp

Nannari Syrup - see notes

1/2

litre milk – reduced to half or 250 ml and 2 tbsp sugar added and chilled -Milk 1

1/2

litre milk – boiled and 2 tbsp sugar added and chilled – Milk 2

4

tbsp

homemade Ice Cream - see notes
Notes
So lets see what ingredients Jigarthanda has and how do they keep us cool!
1.Badam Pisin – This is a hard gum got from the bark of Almond Trees.However when soaked in water for 8 – 10 hours or overnight,they become a soft and non sticky jelly consistency which can be easily had with any drink or milk.The gum is a natural cooler and relieves a person of summer heat especially heat related fever,watery red eyes or simple body heat.They also relieve tummy issues and are natural ulcer cures.
2.Nannari Syrup – Nannari is a herb,the official name for which is 'Sarasaparilla' which is known for its cooling properties and speciality to cure summer ailments!Just as we pour Chocolate,Maple,Caramel or Toffee sauces over our normal ice creams,I have poured this over this fusion ice cream and it tastes so good!You can get Nannari Syrup online from Amazon or eBay stores.Those in the South Indian regions will have it available at any supermarket or store and so can get it easily.Its an orangish,amber,wonderfully sweet,cooling and refreshing syrup which is used with water or soda to make a drink or used with milk based preparations as well.Used with plain ice cream,it was fabulous.
3.Homemade Ice Cream – I have posted the recipe of my eggless homemade fusion Ice Cream in a previous entry.It is delicious with a Vanilla flavour and homemade Khoya for thickening the consistency!Check out the link here :
https://www.plattershare.com/recipe/fusion-ice-cream
4.Plain and thickened chilled milk – As instructed in the recipe!