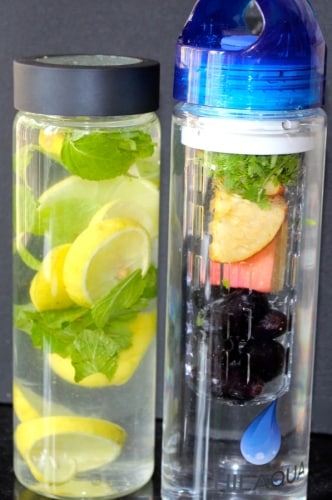 Infused Water For Detox/Hydration/Weight Loss
4 January, 2017
This post is dedicated to all of the weight loss aspirants,people looking for detox in the hot Indian summers and those people who view drinking "lots of" water as "boring". Of late there has been tremendous water crisis in the Indian sub continent.Yet purification companies scoop up water from reservoirs and rivers,purify them of the contaminations and sell them.However with effective purification machines easily installed in the kitchens,at least the problem of drinking water in urban areas has been resolved to a great extent! However another issue has cropped up regarding the drinking of water.Doctors say "People do not drink water these days" and fall ill or become dehydrated. WHY DON'T WE DRINK WATER? Now why do people not drink adequate water?Many reasons from the eyes of a layman : No time Not thirsty Stay indoors so not needed Drink aerated beverages which do more harm than good "Forget to drink"..Wow! and last but not the least BORING…. There are solutions to any given problems and issues so the issue of drinking less water has a sure shot tasty and refreshing solution! WHY DRINK INFUSED WATER? This is a fun way of water intake which ensures you drink water in the first place and you combine it with your favourite ingredients and stay happy,hydrated and do not complain of "boredom". WHAT IS INFUSED WATER? The concept of Infused Water was started a few years back but has become known in India since maybe last year though it was not much hyped before.The idea of this post is to make sure all of my dear readers stay hydrated this summer and refresh themselves with this wonderful and interesting idea of drinking water.So Infused water is flavouring water with your favourite : Fruits Vegetables Herbs Spices Leave it for 30 minutes as it is or refrigerate it if you want the water cold!That is all! WHAT ARE THE REQUIREMENTS FOR MAKING INFUSED WATER? You require a bottle – plastic or glass.These days there are bottles custom made for Infused water available on sites like Amazon.Otherwise choose a glass or food grade plastic bottle or jug with a cover.Choose bottles with a broad top for easy cleaning.Wash it well before use. REQUIREMENTS Water Bottle/Jug Pure filtered drinking water Fruits/veggies/Herbs/Spices as per choice A will to drink water..:) I was gifted with a glass as well as a plastic infuser bottle recently and I am using both in this post to demonstrate the making of 2 types of delicious Infuser water.Let me first give you the main fruits and veggies you can use to make refreshing infused water. FRUITS – Apples,Grapes,Oranges,Lemons,Lime,Berries – Strawberry,Blueberry,Mandarins,Grapefruit,all varieties of Oranges. VEGETABLES – Cucumbers,Carrots,Beets HERBS – All herbs but Mint,Coriander,Cilantro and Parsley lend the best flavour. SPICES – Any of the sweet ones like Star Anise,Cardamom or Cloves.Please avoid extra spices because the purpose of Detox is defeated then. Let me give you some awesome combinations for a start!Then you can experiment and use what you like best! Lemon – Mint – Shown here Orange – Lemon – Mint Lemon – Cucumber Grapefruit – Berries Orange – Berries Apple – Grapes – Coriander – Shown here Apple – Parsley Grapes – Lime
Ingredients
Fruits and vegetables of your choice

see the introductory note

Purified

boiled and filtered water/Machine purified water

Herbs of your choice

see the introductory note
Instructions
So let us make the first drink – Lemon and Mint. Slice 2 Lemons into rounds and pick a few fresh mint leaves and put them into a bottle.

Pour filtered drinking water on top and shake well.Close lid and keep aside or in the refrigerator for 30 minutes and we are good to go.

Second drink – Apple,Grape and Coriander. I have taken black grapes but you can use whatever is available.

Take off the lid of the internal container and stuff it with 3-4 Grapes,3-4 pieces of Apple and some coriander leaves.Or put them directly in the bottle if using a normal one.

Close lid and screw it back into the bottle.(if using an infuser bottle)

Fill with filtered drinking water through the perforations(holes) on top of the lid.Close and keep aside or in the refrigerator for 30 minutes.Ready!

I hope through this post I have bought out the importance of drinking water especially in the summers.I cannot stress enough the benefits which are available for reading on the internet and also as will be told by your family doctor.

Enjoy the delicious water,stay hydrated and stay fit! Take Care!
Notes
Important points to note :
No sugar or salt should be added
No aerated beverages like Soda or soft drinks to be added
Use pure filtered water
No sparkling water or substitutes to be used