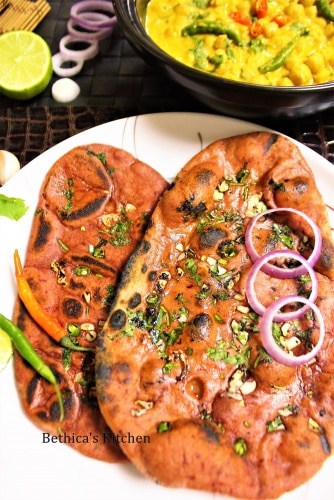 Whole Wheat Beetroot Garlic Naan
Naan made of whole wheat flour simply tastes just as delicious as any regular plain flour naan. Add some beetroot puree to it to make them more nutritious, appealing and appetizing at the same time. They can be very easily made at home without any yeast. Brushed with some butter / olive oil, relish them with any side dish. So go ahead and make them and surprise your family and friends with this amazing creation.
Ingredients
2

cup

whole wheat flour

2

pinches

of salt

1

tbsp

mustard oil

1

tsp

baking powder

1/4

tsp.

baking soda

1

small beetroot

1

" ginger

2

green chilies

1

tbsp

yoghurt

butter / olive oil to brush

1

tbsp.

garlic

chopped

1

tbsp.

coriander leaves

chopped

1-2

green chilies

chopped (opt)

any side dish to serve
Instructions
Blend the beetroot, ginger and green chilies to a smooth paste. Keep aside. In a bowl mix together flour, salt, baking powder, baking soda, yogurt, puree and mustard oil till it resembles bread crumbs.

Add water as required to knead it into a soft dough. Cover it and keep it in a warm place for 4-5 hours. Add a tsp. of oil and knead again for a minute. Divide into 4-5 equal portions.

Roll out each ball of dough into an oblong shape by dusting some flour. Sprinkle some garlic, chilies and coriander leaves over it. Roll once again so they stick to the dough. Make similar naans with the remaining dough.

Heat a tawa / griddle till it is smoking hot. Apply some water to the other side of the rolled out dough and place it on the hot tawa.

After 1-2 minutes, you will see little bubbles appearing on the surface. Flip the tawa over the direct flame and to cook the other side too.

Transfer to a serving plate and brush with butter / olive oil and enjoy them hot with any side dish of your choice.