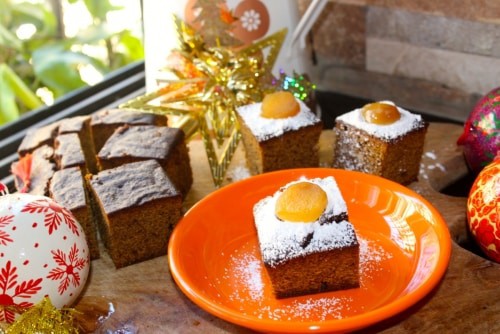 Traditional Christmas Gingerbread
22 December, 2016
The essence of Christmas is in the giving gesture. Its not always that we have an occasion to give. Many people invisibly keep helping, giving and sacrificing for their loved and the needy ones which makes them quite an angel.
We make these treats to share them with those who can neither afford to buy nor make and by doing so gladden and satisfy many a heart! When the snow falls ever so gently so that the lovely flakes envelop whatever is there on the ground with their pure white glistening sheen, the mind craves warmth.
Its especially very comforting having something flavourful and filled with spices with a hot drink(not forgetting the Christmas spirits which come out of forgotten vintage bottles, casks and jars).
The idea of a warmth giving cake appeals to everyone and Gingerbread is THE perfect cake to be had on such occasions. Apart from being an eternal favourite on the Christmas Menu, it gives the soul satisfaction of having eaten something good and in fact made with one of the most beneficial spices and the most famous root – Ginger.
However before starting let me clear the concepts. As this cake is prepared primarily in the West, we may not get those specific ingredients in India. I am therefore substituting ingredients we get readily for people to make it easily and its the same flavour guaranteed.
Ingredients
250

gm

plain flour

maida

1

tsp

soda bicarb

1 1/2

tsp

dry ginger powder

Sonth

1

tsp

Ground Mixed Spice

See Notes

115

gm

butter

115

gm

brown sugar

150

gm

golden syrup

2

tbsp

Unsulphured Molasses

See Notes

2

large eggs

beaten

2

tbsp

milk
To serve
Stem Ginger in Syrup

optional

Icing Sugar

optional
Instructions
Preheat Oven to 160C and prepare a 7 inch square or 8 inch round cake pan.

Sift flour, soda bicarb, ginger powder and mixed spice in a large bowl.

Take a saucepan and put the butter, sugar and golden syrup in it. Melt the butter on the lowest heat possible and keep stirring with a wooden spatula at the same time.

Melt the butter completely so that it mixes with the other ingredients and take off heat. Cool for 10 minutes.

Stir into the bowl of flour and spices and mix well. Add eggs and molasses and beat well. There would be a lovely dark brown colour owing to the molasses and the mixture would have a heavenly aroma.

Spoon into the prepared cake pan and thump the pan on a flat surface or the floor to break any air bubbles. Bake for 1 - 1 hour 15 minutes till well risen.

Cool the cake in the pan for 15 minutes and then cool on a wire rack to room temperature.

Use either immediately or better still keep for a fortnight for the cake to take on a super delicious flavour.

For serving: Cut the cake into neat squares. Take a small sieve and add 2 tsp Icing Sugar. Stir the sugar with a spoon to sprinkle snow white sugar over the cake squares.
Notes
So these are the ingredients which may not be available here:
1.UNSULPHURED MOLASSES – This is a by product obtained from distilling sugar. A wonderful substitute would be Jaggery/Gur which is more or less exact in taste like Molasses. For this recipe heat 1/2 cup powdered Jaggery and 2 tbsp water on very low heat and make a thick syrup. Strain and use this in the recipe. Take dark coloured Jaggery if possible.
2.GOLDEN SYRUP – This is quite easily obtained in metropolitan cities and even on websites online. Corn syrup and honey could be substituted but if you do not have any of them then you can omit this ingredient.
3.MIXED SPICE – This is also called "Pudding Spice" in the UK! You can prepare this lovely powder at home as it gives wonderful taste to Christmas sweet treats. For this you need to have a pre-mixed powder called Allspice readily available in stores as well as online. Google has a wonderful recipe for Mixed Spice and I tried this no fail mix for wonderful tasting Gingerbread and Cookies. These are the ingredients:
1 Tbs ground Allspice – Available as a premixed powder
1 Tbs ground Cinnamon – Dalchini powder
1 Tbs ground Nutmeg – Jaiphal Powder
2 tsp ground Mace – Javitri Powder
1 tsp ground Cloves – Laung Powder
1 tsp ground Coriander – Dhania Powder
1 tsp ground Ginger – Sonth Powder
In case you do not have Allspice, then use the other powders. The predominant flavour comes from Cinnamon and does not matter if you omit Allspice! The cake will still taste delicious!
Mix the powdered spices in a clean and dry glass jar and use as required.
4.STEM GINGER IN SYRUP – This item is commonly found in the West and consists of sliced Ginger in an absolutely delicious syrup. I found this in a big supermarket and got it without a second thought for the decoration. However you can use Ginger Candy chopped very fine which is available in so many places in India. You can do without that as well as Gingerbread is traditionally served with Icing sugar on top.
Even without Icing sugar the cake tastes divine!
SOME MORE TIPS
Bake the cake at 160C all the time. Do not increase the temperature as this might crisp up the cake and blacken it!
Baking Soda is used in traditional Gingerbread.
The more the cake is stored for maturation, the better the flavours would develop. Best to keep the cake for 15 days – 1 month in an airtight container – Tupperware or Glass. You can feed it at intervals with 1 tbsp Brandy, Rum or syrup from preserved fruits. Or you can add 2 tsp water to 1 tbsp honey and spoon over the cake to moisten it. Do the moistening once a week.
Do not immerse or soak the cake in any syrup or liquid as it will fall apart. The syrup is used only for moistening and not soaking the cake.
Apart from Icing Sugar and Stem Ginger in Syrup which I used, the following can be used to decorate the cake:
a) Sugar Icing
b) Fondant
c) Christmas Sprinkles – Golden and Silver
d) Gold Dust
e) Buttercream with Ginger essence and chopped candied Ginger
f) Only Icing Sugar
The options are endless..:)
Nutrition
Calories:
146
kcal
Carbohydrates:
23
g
Protein:
2
g
Fat:
5
g
Saturated Fat:
3
g
Polyunsaturated Fat:
1
g
Monounsaturated Fat:
1
g
Trans Fat:
1
g
Cholesterol:
29
mg
Sodium:
101
mg
Potassium:
61
mg
Fiber:
1
g
Sugar:
13
g
Vitamin A:
170
IU
Vitamin C:
1
mg
Calcium:
17
mg
Iron:
1
mg