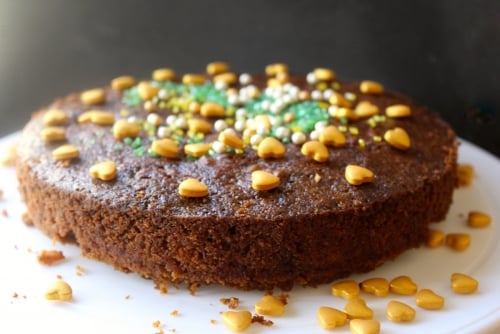 Traditional Christmas Fruit Cake
24 December, 2016
This post is very proudly written as it has seen months worth of hard work and dedication for this special cake!I would love to say here that this lovely cake holds a special place in my heart as I would remember the teachers and friends from my childhood whose homes I would go on Christmas to have delicious goodies and come back with equally wonderful gifts!At that time I never imagined owning a blog,baking my own cake and presenting it to the world on this beautiful peace loving festival.I definitely have an emotional angle to explore especially when it comes to winters,Christmas and cake and of course cake as in this ethereal traditional fruit cake.I also remember Charles Dickens and his love for Christmas as is expressed in his works namely A Christmas Carol and especially where a small child with special needs called Tiny Tim expresses his wishes thus "God Bless Us Everyone"! I apologise to the "no booze only veg" promisers that what they term as "booze" is the only ingredient responsible for the great flavour of this cake.You will never go tipsy,never fall or feel dizzy after having a slice of this heaven!You will revel in the flavours and wonder that leave aside technology and scientific inventions,how far has mankind evolved to bring out treats as delicious as this and how long and painstaking might the inventors have waited to finally write the final and the all accepted recipe of Christmas fruitcake!However there is no compulsion and please leave out the liquor if you want and use anything from sugar syrup to Orange juice to soak the fruits and if you get Rum/Brandy essence where you live,you are more than welcome to include that,however the taste remains unbeatable for the liquor soaked fruit cake!
Ingredients
Total soaked fruit – 700 gms

75

gms Walnuts – chopped

Rum/Brandy/Bourbon/Orange/Apple Juice – 400 ml

optional

300

gms butter

unsalted

200

gms brown sugar – Muscovado/Golden/Raw sugar

4

eggs

preferably large

2

tbsp

Molasses/jaggery syrup

optional

1

tsp

vanilla essence

300

gms plain flour

maida

150

gms Almond Powder

optional

1

tsp

Clove Powder

1

tsp

ginger powder

1

tsp

Cinnamon powder

Frosting:

1

cup

packed Icing Sugar

Water as required

2

tbsp

Rum/Sugar Syrup

optional

1

tsp

Vanilla essence

if using sugar syrup

Gold pearls to decorate
Instructions
Preheat oven to 150°C and prepare the cake pan.

Sift all the dry ingredients in a bowl and mix 80% of the soaked fruit into them.Keep the rest of the fruit for the top.

Cream the butter and sugar and add the eggs beating well after each addition then beat in the Molasses(if using) and the Vanilla essence.

Now fold in the prepared dry ingredients 2 tbsp at a time.Add 2 tbsp of the flour mix and fold well(in an up and down motion) and repeat till all the mix has been used up.Add the chopped Walnuts and mix well.

Spoon the batter into the prepared cake pan and bake for approximately 2 1/2 hours till a skewer or toothpick inserted into the cake comes out clean.

After the cake is done immediately wrap it in foil with the pan so that the cake stays moist and does not dry.

After the cake comes to room temperature store it in a well fitting cake box or glass casserole.Remember to spoon some Rum/Brandy/Bourbon/Sugar Syrup/Orange or Apple Juice to keep the cake moist.

Frosting the cake: Mix all the ingredients and add water carefully so that the mixture coats the back of a spoon.Pour the frosting on the cake and leave to set.Sprinkle the edible gold pearls on top to decorate.
Notes
Non alcoholic versions are always there and you can use Orange juice,Sugar syrup(not too thick) or even Apple Juice.This cake has a shorter shelf life than the ?Alcohol cake? which can keep months if stored properly. Follow all the instructions properly for a beautifully baked cake which is great tasting and perfect for Christmas! Always use a glass casserole/jar or vessel to steep the fruits.Never use metal as the Alcohol will react with it.Wood is fine but Glass is the best! Soaking the fruits to make this size cake: Mixed peel(Orange,Lemon,Grapefruit,Kinos) ? 150 gms Glace´Cherries ? 150 gms(halved) Raisins ? 100 gms Sultanas ? 100 gms Maraschino Cherries ? 100 gms(halved) Other assorted dried fruits ? 100 gms(chopped) You can use any kind of dried fruits available in plenty these days like Pineapple,Kiwi,Papaya,Strawberry,Cranberry,Cherries,Dates or Apricots!The list is endless and sky is the limit! So the total weight of fruit ? 700 gms