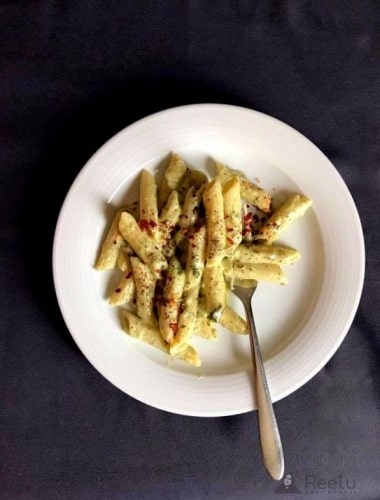 Creamy Herb Penne Pasta
This creamy penne pasta has a burst of flavors of garlic and mixed herbs, delicious to the palate which will excite your taste buds - says Chef Reetu Uday Kugaji.
Ingredients
Heavy Whipping Cream- 1 ½ cups

Garlic clove- 02 nos.

Extra Virgin Olive oil – 01 tbsp.

Pine nuts – 03 tbsp.

Parmesan

grated- 02 tbsp.

Pepper powder – a pinch

Mixed herbs

dried-01 tsp.

For Pasta :

Penne pasta – 1 ½ cups

Extra Virgin Olive oil – 03 tsp

Salt – to taste

Parmesan cheese — 1 tbsp.

optional

For the garnishing:

Basil

finely chopped-02 tsp.

Mixed herbs

dried-01 tsp.

Red chilli flakes-01 tsp.
Instructions
Cook the pasta until al dente with enough water added with oil and salt.

Takes 07 minutes to reach the stage.

Drain the pasta and set aside.

In a heavy bottomed non-stick pan heat oil add minced garlic cloves sauté for 01 minute, nuts, pepper powder, dried mixed herbs and cream, give it a whip

Add cheese .Whip the sauce for few seconds add cooked pasta and mix gently for 01 or 02 minutes.

For the serving: Serve hot garnished with chopped Basil, dried mixed herbs and red chilli flakes.
Notes
Chef Tips:
You may add a dash of white wine.
About the Author: This recipe has been shared by Chef Reetu Uday Kugaji who believes that food that she cooks should touch heart and soul of the person and she dedicates all her success to her Angel Mother.