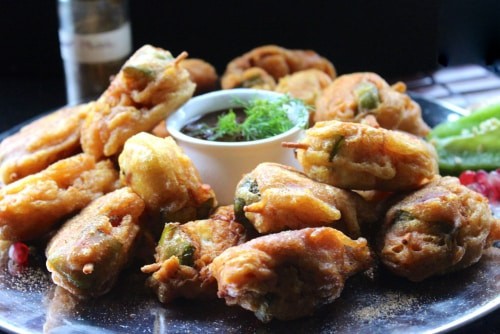 Pakodas On Sticks
12 April, 2017
I just love trying out something different and this is one of them!All of us are too familiar with Pakodas and this is a little modification to give them a new twist and a new way to eat!I have also added new ingredients to the batter and made them super tasty and a delight in parties,rainy season quickies and for special occasions!Or it might be that you want to enjoy and make yourself a plate of these babies!Believe me they are addictive to the core!All you need is Paneer,veggies and some toothpicks.Party time folks!
Ingredients  
The Pakoda Vegetables

500

gms fresh Paneer

1

Capsicum/Green/Red/Yellow Bell Pepper

2

medium/1 big Tomato

1

Onion

optional

For the batter :

1/2

cup

besan

gram flour

1

tsp

Salt

1

tsp

Chilli Powder

1

tsp

Turmeric Powder

1

tsp

Soda Bicarb

1/2

tsp

Green Chilli Paste/1 Green Chilli minced finely

Oil for deep frying

For garnish :

2

tsp

Chaat Masala

1

tbsp

Coriander Leaves

optional

12

– 15 Toothpicks/swizzle sticks
Instructions 
For the batter : Mix all ingredients except soda bicarb and add enough water to whisk into a thick batter (neither very thin nor very thick).Keep aside till making the Pakodas.

Prepare the sticks : Cut the Paneer and vegetables into 1 inch cubes.Its not necessary to make exact pieces but ensure that they are approximately of the same size.I used Paneer,Capsicum and Tomato.

If you use Onion then you can insert it as desired on the sticks. Take a toothpick and start with a Capsicum cube followed by Paneer then by Tomato and then again a piece of Paneer.Prepare all the sticks this way.

Make the Pakodas : Heat Oil in a frying pan.Add the soda bicarb to the batter and whisk well to incorporate.Dip each prepared stick into the batter and deep fry on medium heat till crisp.Take out on absorbent paper.

Serving the snacks : In a plate take the Pakodas on sticks and sprinkle with the chaat Masala and Coriander Leaves.Serve hot with homemade ketchup or chutney and let the guests do the talking!