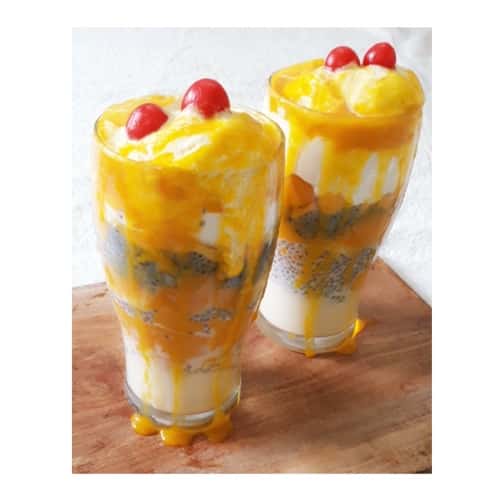 Mango Falooda
14 March, 2018
Who doesn't like Mango desserts and that too Falooda😋😋, Mango Falooda is a complete breakfast or a small meal on its own. It is cooling, filling and delicious. Why Falooda's are so famous in summers is because of its cooling effect on our body, basil seeds are known to absorb heat from the body and are good for weight loss, it has many other health benefits attached; and having It with a seasonal fruit like Mango elevates its taste even more. I am sharing here my take on this fabulous summer beverage Mango Falooda; Mango Falooda makes an amazing party drink. I made it for my kitty party and all the girls thoroughly enjoyed it.
Ingredients
Mango puree 1 cup

Milk 1 +1/2 cups

Mango fruit 2-3

Basil/ Sabja seeds 2 tablespoons

Vermicelli 2 tablespoons

Mango Ice Cream 4 scoops

Almonds and pistachios sliced 3-4nos.

1/2

cup

ready whipped cream

Cherries 4 nos
Instructions
Before starting with the Mango Falooda, 1> keep 2 cute glasses for serving Mango Falooda and 2> keep 1/2 cup of plain water Both in freezer.

Boil milk add sugar, reduce milk from 1+1/2 cup to 1 cup. Cool it and refrigerate to chill. Till milk is chilling prepare everything else. I've shared image of my reduced and chilled milk.

Clean, peel and chop mangoes and keep 1/2 cup aside for serving and puree remaining pieces to get 1 cup pulp. Add sugar according to sweetness in mangoes while pureeing. Add some water if the pulp is very thick.

In a pan heat 1/2 cup water add Vermicelli and cook for 4-5 min. After they are translucent strain the hot water out and add Vermicelli in the chilled 1/2 cup water we had kept in freezer. So that it stops cooking further.

Strain basil seeds and Vermicelli and set aside Both these ingrdients swells and doubles in quantity.

Now when everything is ready start assembling.

In the chilled glasses add everything in layers. Layers can be repeated as many times as you like. I put everything in 2 layers.

I put 1 tbsp basil seeds + 1 tbsp Vermicelli + Mango pieces +Milk + Mango puree. Then repeated the same thing.

On top I piped some whipped cream in both glasses and added 2 scoops of homemade Mango Ice cream.

Sprinkle sliced almond, pistachio and cherries on top. I totally forgot to add nuts.