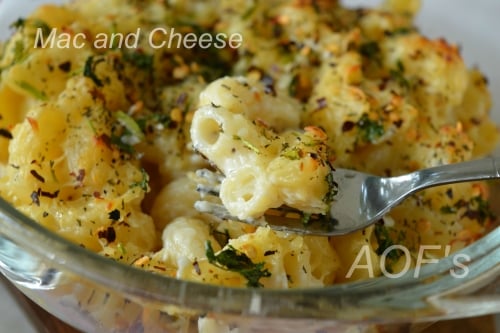 Mac And Cheese
Mac and Cheese is one of the iconic American recipes that stand for comfort and luxury ! One bite of this is guaranteed to make one fall in love with the macaroni swathed in a rich creamy sauce and an overload of cheese 🙂
Ingredients
2

cup

Macaroni pasta

1

cup

grated Parmesan cheese

1/2

cup

grated Mozarella cheese

optional but recommended

2

tbsp

all purpose flour

coarsely ground pepper for seasoning

dried herbs

rosemary, parsley, thyme

pepper flakes

1/2

cup

milk

1/4

cup

cream

salt to taste

1

inch

stick of butter
Instructions
Bring sufficient water to boil in a saucepan. Once it gets to bubbling stage, add salt and then put in the macaroni. Cook for 8-9 minutes.

At the same time, heat the butter in a saucepan. Add the flour followed by the milk and stir it to make a thick sauce. Season with herbs, pepper and salt. Finally stir in the cream and switch off the flame.

Drain the pasta and add to the sauce along with the grated cheese.

Mix and pour the contents into a baking dish. Sprinkle more cheese on top if you want.

Heat a oven to 170 degrees. Place the baking dish in the middle rack and bake for 30 mins.

Remove and serve immediately. Or refrigerate and reheat just before serving.
Notes
While reheating this dish, sprinkle some milk and a bit of cheese to ensure that too much moisture is not lost !