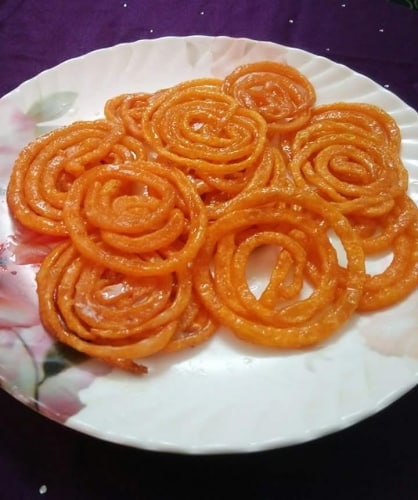 Instant Jalebi
Quick and easy to make instant jalebi recipe. These is yeast free, made of maida flour, fried in ghee and dipped in sugar syrup. Make and enjoy the crispy and juicy jalebi this festive season.
Ingredients
For Jalebi Batter : Maida - 1 cup

Corn flour - 1 tbsp

Curd - ½ cup

Water - ¼-½ cup

Baking Soda - ½ tsp

Kesari food colour - ¼ tsp

optional

Ghee for frying

For Sugar Syrup: sugar - 1 cup

Water - 1½ cup
Instructions
For making the jalebi batter: Take the Curd and baking soda in a mixing bowl, mix well and let it stand for about 10 mins.

Add the flour, cornflour and the kesar food colour and mix well. Add water little at a time till you get a smooth and a lumps free batter. The batter should have a flowing consistency. The batter should not be too thin or too thick. Cover and keep as

Continue to boil till you get one string consistency in the sugar Syrup. Switch off the heat and let it be in the stove so that it remains warm.

Next with a spoon mix the batter very well again. Now pour this batter in a sip lock Bag and cut the tip of it. The tip should not be very big hole. Or you can use the squeezy tomato ketchup bottles that we get in the market.

Heat ghee in a frying pan. To check the temperature of the ghee, add a tiny amount of batter to the ghee, if it comes up quickly and gradually the ghee is hot enough for the jalebis to be fried.

Now squeeze the the jalebi batter and make spirals with the batter and fry till golden and crisp. The jalebi should be fried between low and medium heat temperature. The temperature is very important for a perfect outcome of the jalebi.

Take out and shake to drain the extra oil and then immediately put the fried jalebis in the sugar syrup and with the help of stapula gently press the jalebi to deep in the Syrup, let it be for 2-3 mins.