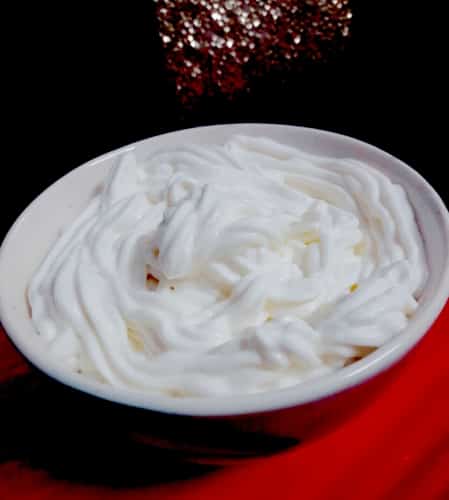 How To Make Whipped Cream
Whipped Cream is one of the essential steps if you dream to be one of those pastry chefs or dessert queen. Home chef Prabhleen shares her secret way of making the whipped cream. While whipped cream is used for icing the cakes, desserts or can be enjoyed with pancakes, waffles or all by itself, Making whipped cream is very simple yet tricky as it needs the skill and patience
Ingredients
Low Fat Fresh Cream - 200 ml

Powdered Sugar - 2 Tablespoon

For Preparation of Ice Bath

lots of ice cubes
Instructions
Once refrigerated, do not shake the pack as this will end up mixing the liquid part (which sits at the bottom of the pack) with the thick part of the cream

After refrigerating for 4 hours, cut the sides slowly without disturbing or shaking the pack and separate the thick and creamy part from the liquid part in two bowls. Make sure that the bowl with the thick cream is also cold, you can refrigerate it.

In a large bowl add few ice cubes, this is called as ice bath which is generally used to maintain the temperate of the cream till it forms soft peaks.

Place the bowl with the thick cream on this ice bath. With the help of an electric beater start whisking at a low speed for first 5 minutes.

After 5 mins you will notice that the cream will double in volume.

At this stage add powdered sugar to it and start whipping the cream. Start on a medium speed and then increase the speed to high after a minute. Be patient at this stage to see the perfect results.

After beating the cream for about 7-8 minutes you will start getting soft peaks of the cream.

Fluffy cream gets soft peaks when it does not fall off the blades of the beater. Do not over-beat the cream.
Notes
Tips from Prabhleen :
1. First and the most important step is to refrigerate the cream pack and do not shake the cream pack as it will end up mixing the liquid part with the thick part.
2. Ice bath should be as cool as possible because the temperature plays a very important role. Keep adding more ice cubes while whipping the cream. Prabhleen could not perfect the whipped cream because the atmospheric temperature also matters and it has high during peak summers.
3. Use glass bowl for making the whipped cream as plastic bowl and steel bowl just doesn't work. First two times Prabhleen used these bowls and was not successful.
4. Do not be in a hurry, start whipping the cream at a low speed then increase the speed gradually.
About the Author : This Recipe has been shared by Prabhleen Kaur, who loves to cook in her kitchen and make good food and makes food look good. A Punjabi by heart, who loves spicy food and her aim is to be a Pastry Chef. We, thank Prabhleen for sharing this recipe with us.