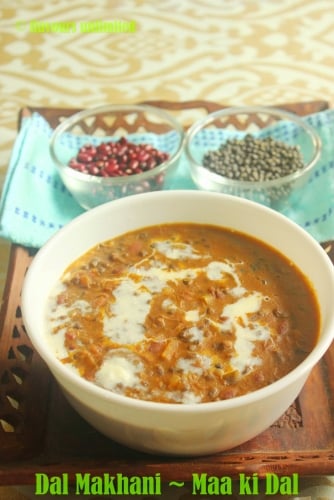 Dal Bukhara Or Dal Makhani
29 October, 2016
This post should have come on a Mother's day. However, I would belittle Mothers if Mothers' day could be celebrated in a single day. This post is dedicated to all Mothers, Mother In Laws, Grand Mothers, Grand Grand Mothers , Fore mothers (is there a word in dictionary) and Soon to be Mothers. Everyone, including the Chefs Graduating from top Hotel Mgmt Institutions would agree that all the ultimate comfort food is the food prepared by our Maa or Daadi Maa(Paternal Grand Mother) or Nani Maa ke hathon (Maternal Grand Mother) . At the end of the day, that is what gives peace to the mind and stomach. There are few dishes prepared by them which would stay with me throughout my life. No matter how much I try, I can never get the same taste. To name a few, My Mom's Mutton Curry, My Nani's Moong Daal, Arisa Pitha, Wadi, Chips, (there are many actually) and my MIL's Chicken Biryani, my Bua's Ghanta Tarkari and my Mausi's Khiri (Rice Kheer) . Unfortunately, I have not tasted any of my Dadi's recipe as I was her last grand child and she was almost 80 when I was born. Well, I have about 50 cousins including second and third . I would not dare to challenge them in their signature dishes. However, I can definitely try a different dish which is dedicated to all Mothers – Called Maa ki Dal or Dal Makhani- The creamy black lentil curry. And who can make Maa ki Dal best then Bukhara , the famous restaurant in Delhi by ITC Maurya. They are the best in what they do and nobody on earth and beat them in making this dal. The best part which impresses me is – Its simple food . A 5 star restaurant selling only Roti and Dal and believe me, you can have one of your finest meals in life. The rush outside, the long waiting queue even on a week day can show you how a simple concept can sweep you away your feet if you are best at it. It has taught me a very important lesson in life. How Quality can beat Quantity. Else why would people spend so much to just have Dal and Roti. The menu is short and simple . Few Kebabs and Few Bread Types and the famous Dal Bukhara or Dal Bukhara or Maa ki Dal or Dal Makhani (all meaning the same thing) ..
Ingredients
1/3

rd cup small red kidney beans

rajma

2/3

rd cup black lentils

whole urad Dal

2

small onions finely chopped

6

small tomatoes blend to fine taste

1

tsp

ginger paste

fresh

1

tsp

garlic paste

fresh

1

tsp

cumin seeds

1

green chili finely chopped

6

tsp

ghee

1

tbsp

butter

2

tbsp

fresh cream

1

tsp

turmeric powder

1

tsp

red chili powder

1

tsp

cumin powder

1

tsp

kasuri methi

1

tsp

garam masala

¼ tsp Hing

1

tsp

sugar

Salt to taste
Instructions
Soak Kidney beans and Black lentil over night.Next day, drain the extra water and put in a pressure cooker.Add 2 glass of water, 2 tbsp salt and Hing.Pressure cook on high for 2 whistles. Lower flame and cook for 10 minutes more.Switch off gas

In a kadai, add ghee. Once ghee is hot, add cumin seeds and onions. Cook till onion turns

Add ginger garlic paste and cook for 2 minutes on medium flame.

Add tomato puree. Cover and cook for 10 minutes on low flame.

Open lid, add turmeric powder, red chili powder, cumin powder and kasuri methi.

Mix well and cook for 3-4 minutes more. Let the tomatoes cook well. You need patience for this.There is no short cut. Don't put the gas on high flame else you will burn the entire gravy.

Add the cooked lentils.

Add sugar and butter. Bring it to boil.

Finally add garam masala and check for salt.Switch off flame.Take it out on a serving dish. Garnish with fresh cream. Serve with Jira Rice or Roti.