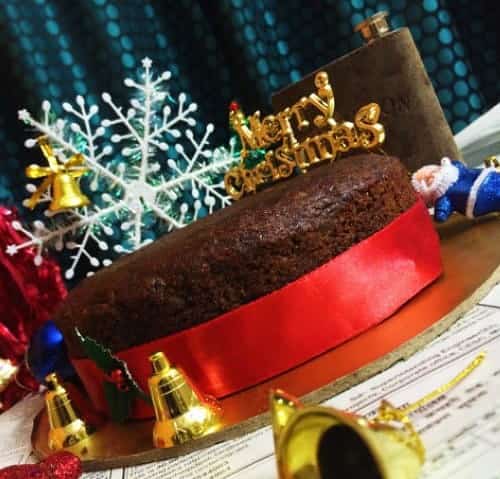 Christmas Plum Cake - Treat From Generations Old
26 December, 2015
An authentic Christmas Plum Cake from the recipe which was passed down from generations in the Florence family of Ireland. This recipe is 169 years old and involves lots of thoughts and love. Finally it's here for all of you! 🙂 Merry XMas my lovely fellas!
Ingredients  
For Dry fruit ritual

1

cup

Dried Cranberry

Blueberry, Raisins, Black raisins, Sultanas, Apricots, Figs, Cherries and Dates.

250

ML

Old Monk Rum

1

tsp

Cinnamon powder

1

tsp

Nutmeg powder

1/2

tsp

Ginger powder

1/2

tsp

Clove powder

1/2

tsp

Cardamon powder

For Caramel

1

cup

Sugar

1

tbsp

water

3/4

cup

Hot Boiling Water

For the cake

100

gms Butter

1.5

cup

Icing sugar

3

Eggs

Whites & Yolk separated

1.5

cup

All Purpose Flour or Maida

1

tsp

Baking powder

1

tsp

Baking soda

1

cup

powdered Almonds & Cashews

6

tbsp

Orange Marmalade

2

tbsp

powdered sugar granules

Spice mix

Caramel syrup

Soaked fruits
Instructions 
I used mixture of 9 dried fruits Cranberry, Blueberry, Raisins, Black raisins, Sultanas, Apricots, Figs, Cherries and Dates. Slice them finely and soak them in a mix of McDowells and Old Monk Rum in a glass jar.

Keep the same in a dark cupboard at room temperature only. I soaked it for 4 months, Keep stirring in every 4-5 days.

For Caramel - Heat sugar in a pan along with 1 tbsp water. Let it simmer slowly. Once it starts changing its color, stir it lightly. Let it be on gas till it changes it's color to dark black. More the color, more beautiful your cake will be.

Once it is done, take it off the gas and add hot boiling water to it carefully. Make sure you are standing at a distance as it may splash and burn you. Stir it properly and your caramel is ready.

The best way to prepare a cake is to start once all the ingredients properly measured are kept in front of you. Beating the batter and mixing requires a very quick hand movement and is only possible once you have everything handy.

Sieve APF, Spice mix, Baking powder. Baking Soda. Sieve for at least 4-5 times.

Grease your cake tin and cover it well with parchment paper. Also keep the sides covered with brown paper which actually gives it more moistness and saves from burning.

Take your soaked fruits and drain the extra rum. Now add fresh tuti fruitis, coarsely powdered almonds and cashews for the crunch. Add 3 tbsp flour and mix it well. This will help in avoiding the sinking of dry fruits in the batter.

Pre-heat your oven at 140 degrees.

Beat butter and icing sugar together till smooth.

Add yolks, one at a time and keep beating it lightly.

Now fold in the dry ingredients and mix it well though slowly.

Add powdered almonds & cashews. Mix well.

Add Vanilla essence, orange marmalade and caramel syrup. Combine them finely. Mix well and let it rest for few minutes.

Now, take egg whites in a separate bowl and start beating it. Beat till soft peaks are formed. Now add powdered sugar granule and keep beating till glossy peaks are formed. Fold it gently into your cake batter.

If you feel that cake batter is bit runny, do add 1 to 2 tbsp APF and mix well. The consistency should be thick and not runny.

Pour the batter into the prepared tin and bake at 140 degrees. In my Microwave convection, it took 1 hr 40 mins to complete bake. After 1 hr, I covered the top with aluminium foil so that it don't get burnt.

Do the toothpick test to check the status of the cake.

Once baked, let it cool down for 15 mins outside the oven. Invert the cake over a wire rack and let it cool for at least 30 mins.

Once cooled, brush rum all around the cake and cover it with aluminium foil. Wrap properly and keep in a tight container at dark place. Keep it away from any strong odor. It's always better to keep it safe in a kitchen wardrobe.