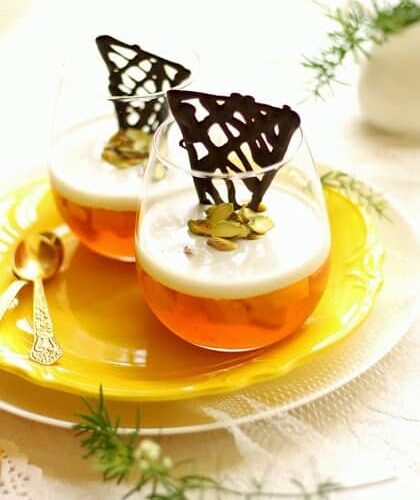 Caribbean Isles
10 March, 2018
A gelatin based dessert with fresh mangoes, coconut milk & pineapple jelly.
Ingredients
Pineapple jelly crystals - 1 packet

Coconut Milk - 200 ml

Powdered gelatin - 1 teaspoon

Cold water - 2 tablespoons

Alphonso mangoes - 2

Sugar - 1 tablespoon

Pistachios or almonds to garnish
Instructions
Prepare the jelly according to the instruction on the packet.

Pour freshly prepared jelly into 3 or 4 glasses (dividing the same equally)

To the jelly add in 2 alphonso mangoes that have been cut into 1 inch cubes, divide the mangoes equally amongst the glasses.

Once the jelly comes to room temperature transfer the glasses to the refrigerator to set (approx. for 2 hrs)

After 2 hour,s pour 2 tablespoons cold water in a small dish and sprinkle with 1 teaspoon gelatin powder. Allow it to stand for 10 mins.

The gelatin will absorb the water and bloom into a soft mass.

Next, heat the coconut milk in a saucepan.

Once it gets warm add in 1 tablespoon sugar (or more if preferred sweeter) to the coconut milk.

When the sugar dissolves turn off the flame and allow to stand for 5 mins.

Next add in the bloomed gelatin and combine with a whisk.

Remove the glasses from the refrigerator and top the set jelly with the coconut milk, dividing it equally amongst all the glasses.

Return to the refrigerator to set for another 2 hours.

Just before serving garnish with chopped nuts of choice or chocolate curls or mango cubes. Enjoy!
Notes
Alphonso mangoes are best for making desserts, try to make this or any dessert with Alphonso mangoes only.