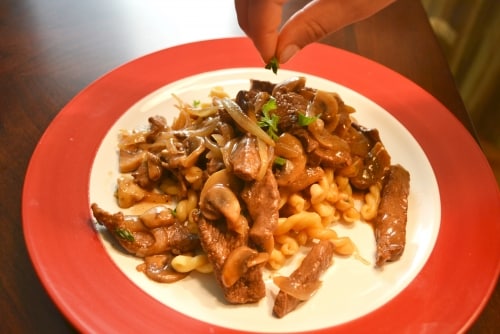 Beef Stroganoff Recipe | Beef Stroganoff With Yogurt Recipe | Tasty Beef Stroganoff
29 April, 2018
Beef Stroganoff is one of the popular beef dishes and easy one to make. It involves cooking of beef strips with mushrooms, onions and spices. The creamy consistency of the stroganoff is created by adding Yoghurt/sour cream to the steak mixture. You can have the Beef Stroganoff with the German Pasta Spaetzle or White Basmati Rice as per your choice.
Ingredients
Sirloin Steak – 1 lb.

500 grams

Red Onions Sliced – 1

Mushrooms Sliced – 150 grams

Sweet Paprika – 2 tbsp

Salt / pepper to Taste

Yoghurt or Sour Cream – ½ cup

Olive Oil – 2 tbsp

Butter – 20 gms

Brandy – 1/3 cup

Beef Stock – ½ cup

Parsley – 1 tbsp Chopped

Basmati Rice – 1 cup or 1 cup Pasta
Instructions
Keep the Sirloin Steak in the freezer for 15 minutes before you start to cook so as to make sure the strips are nice and firm when you slice them.

Slice the Sirloin Steak in thin strips

Season them with Paprika, little salt and pepper and make sure the strips are completely coated with the spices.

Place the pan on medium high heat, when its hot, add some olive oil and toss the beef strips in them.

Toss them till they get a nice color and cook for about 3- 4 minutes. Take it out of the pan and let it rest.

Toss gently till the mushrooms and onions get some good color and some of the moisture of the mushrooms goes away.

Keep the pan away from the burner and pour the brandy and give it a nice swirl.

Once the alcohol evaporates, pour 1/3 cup beef stock and allow it to cook for 5-7 minutes and allow the liquid to reduce to half.

Put the beef back in the pan and mix it nicely with the mushroom/onion mixture.

Turn the flame off. Add either Plain yoghurt or sour cream and give it a nice mix till you get a nice creamy texture.

Sprinkle some chopped parsley and serve it on top of a bowl of cooked Spätzle pasta or cooked Basmati Rice
Notes
You can substitute Beef with Chicken for Chicken Stroganoff and also can substitute brandy with White wine also
About the author: Chef Ashok Nageshwar is a certified culinary professional who graduated from the world's oldest culinary school Le Cordon Bleu with high honours and distinction. He has gained a speciality experience in Spanish cuisine from Spain working with chefs from Michelin starred in Bilbao and San Sebastian.
An experience with Ritz Carlton, working with
Top French Chefs and with the top Italian restaurants in Australia has taught him the art of perfection and culinary discipline which he practices. Besides working in a corporate culinary environment, Ashok enjoys themed fusion dinners, hosting culinary classes. Chef Ashok shares his culinary journey with Plattershare and on his FB page Food Raconteur