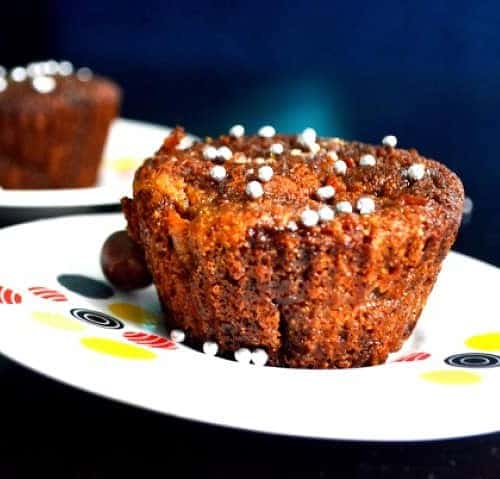 Apple Fritters With Apple Cider
15 July, 2016
Hey people today I will be sharing with you how to make some great apple fritters with apple cider. The Idea behind making these Apple fritters with apple cider came a couple of days back. When I was on my social networking site, I was browsing the pictures people post on it.
I got so amazed to see some beautiful piece of art. People have got lot of talent of clicking pictures & portraying them beautifully.
I got so excited to make them just by seeing those pictures. I started making my healthy version of Apple fritters with apple cider. Giving it some modifications, I started chopping the apple and sauté them for my fritter add some apple cider.
Apple Cider is my Hero for the fritters. The aroma of sautéed apple with cinnamon and brown sugar with a touch of Apple cider was just irresistible.
To make them low on calorie, I used wheat bran with all purpose flour for the dough which gave it a beautiful brown color & fluffy chewy texture. If you are a health freak with sweet tooth. Do try my version of Apple fritters with apple Cider just to cut off those calories.
Ingredients  
1

cup

flour

3/4 bran + 1/4 all purpose

1

apple

medium, peeled , cored & cut into bite size pieces

1

tbsp

baking soda

1

cup

brown sugar

1

tbsp

cinnamon

ground

1/2

cup

Canola oil

Or unsalted butter

1/2

tbsp

vanilla extract

1

pinch

nutmeg

1

pinch

salt

1

tbsp

Blackstrap Molasses

1

egg

1

cup

sugar

powdered

1

tsp

apple cider

water

splash, hot
Instructions 
Preheat oven to 200 degrees. Grease baking dish with cooking spray and set aside. I used baking molds here.

Now heat a medium skillet over medium heat.

Add 1 tbs canola oil, ¼ cup brown sugar with 1/2 tbs Blackstrap molasses, 1/2 tsp apple cider, cinnamon and the apples and sauté for about 2-3 minutes or until tender, but not quite soft. Set aside.

In a double boiler, whisk together the remaining canola oil, brown sugar.

Gently put the eggs, whisking constantly so as not to scramble them, and the vanilla. Now remove it from the heat, let it cool for 2-3 mins.

Stir in the baking soda, mix flour, salt, cinnamon and nutmeg until a soft batter has formed. Fold in the apples and their juices.

Spread the mixture evenly into the muffin molds and bake for approx. 20-25 minutes or until the top is golden and appears

To make the glaze, in a small bowl combine the powdered sugar, hot water and apple cider until glaze is pourable.

Pour over the top of the muffins and allow it to set. Your Apple fitters with apple cider is ready to be served.
Nutrition
Calories:
414
kcal
Carbohydrates:
70
g
Protein:
2
g
Fat:
15
g
Saturated Fat:
1
g
Polyunsaturated Fat:
4
g
Monounsaturated Fat:
9
g
Trans Fat:
1
g
Cholesterol:
20
mg
Sodium:
433
mg
Potassium:
129
mg
Fiber:
2
g
Sugar:
56
g
Vitamin A:
45
IU
Vitamin C:
1
mg
Calcium:
45
mg
Iron:
1
mg