Eat healthy fats, avoid refined sugar, eat your veggies as close to natural as possible, include whole grains in your diet, exercise at least twice a week, and keep a positive mental attitude.
That's what you expect to hear in any discussion about protecting your physical wellbeing. But what about the cookware? Why is no one talking about cookware?
You rarely hear comments about what kind of cookware to use when preparing meals. It's as if we think pots are neutral and have no impact whatsoever on our physical health.
But is that true?
The truth is many of the cooking utensils in our kitchens interact with our food in a negative way. Some alter the appearance of food and others actually leach harmful chemicals into them.
Typically, when choosing the pots and pans for our kitchen, the usual considerations are:
The appearance of the cooking vessels. Everyone wants to have nice sets of matching pots that complement the colors of the kitchen.
How large the pot is. The size of the meals you intend to cook in those pots also matters.
Their weight and how easy they are to handle. The best-looking pot is not a good option if it is heavy and difficult to handle.
How long the pots will last. Durability is important because you don't want cooking utensils that damage easily.
How easy they are to clean. As much as possible, you want to avoid having to deal with a messy pot after every cooking session.
And, of course, you would like to get all those qualities at the lowest price.
But after you have satisfied your personal criteria for what makes good cookware, you also need to check:
If the raw materials used in the production of the cookware are toxic.
If the pot is glazed or covered with a coating that may be toxic.
If the raw materials, even if non-toxic themselves, underwent a process that exposed them to toxic chemicals.
How long cookware that is safe will last before it becomes harmful.
To help you find your way through the maze of cookware options in the market, here is a shortlist of the safest cookware to use in your kitchen.
The top 6 non-toxic cookware for your kitchen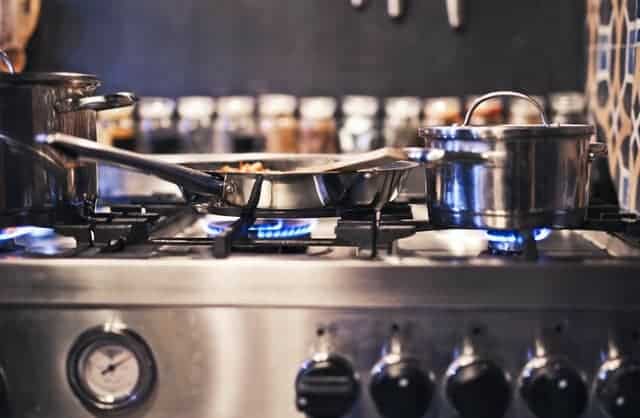 Stainless steel pots and pans are made from iron with chromium and nickel added to make the cookware rustproof and chemically non-reactive. Stainless steel will not add a strange taste to food. It conducts heat well and will heat up evenly. Stainless steel pots are safe as long as you are not sensitive to nickel, in which case they are not the best option for you.
If you need a (new) set of stainless steel pots and pans, you can check out this review of best stainless steel cookware by HomeDesignX.
This is arguably one of the best types of cookware to use in your kitchen. Cast-iron is excellent in terms of durability and heat retention. They can withstand high heat of up to 1500℉. You may also season your cast-iron cookware to make them non-sticky. But they are slow to heat and can leach iron into food, which is not a problem unless you have hemochromatosis.
Pure ceramic cookware is one of the safest cookware options in the market. These pots are made from completely natural materials so there is no possibility of toxic chemicals leaching into your food. Pure ceramic cookware has a smooth scratchproof glass-like surface that is free of non-stick chemicals. It has good heat retention and will hold up in temperatures of up to 2500℉. The only issue is they break easily and are quite expensive.
These are made with a non-toxic anodized aluminum layer below a ceramic-based non-stick coating. This combination provides the faster heating time of aluminum with the non-toxicity of ceramic. The food only comes in contact with the ceramic coating, which has a Teflon-free non-stick layer that is very easy to clean. The shortcoming of this cookware is the ceramic coating wears out in a relatively short time.
Porcelain enamel cookware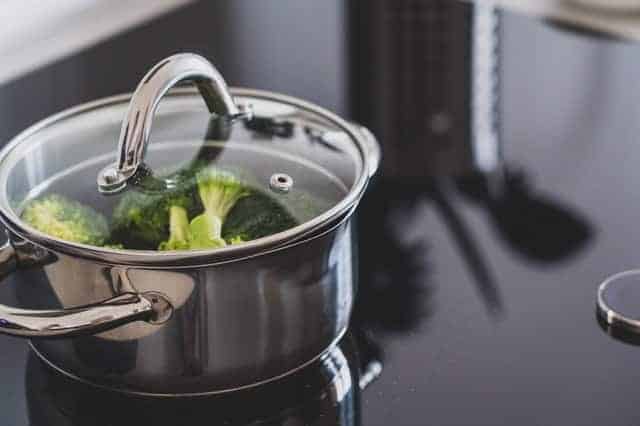 Basically, this is a cast-iron pot coated in enameled ceramic. The glasslike surface created by the coating protects the iron underneath from rust and keeps it from leaching out. At the same time, the pot is durable and has high heat retention because of its cast-iron core. Porcelain enamel pots are so durable they will last multiple generations and you can subject them to high heat. The main issue with them is they are slow to heat and costly.
Titanium cookware is among the safest cooking utensils you can find. They are completely inert, which means they will not react with your food. They are also bio-compatible, even if ingested they will not harm you. They combine the lightweight of aluminum with the durability of stainless steel. Even better, they cost less than ceramic cookware but also offer the rustproof, non-stick, and scratchproof qualities of ceramic.
Also Read – Why Should You Use Ceramic Pans?