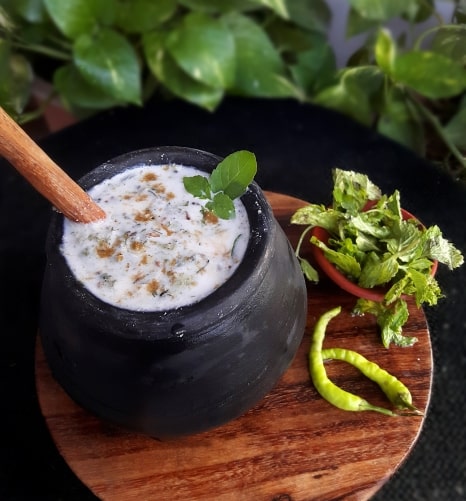 Smoked Buttermilk
16 April, 2018
Usually, in India, every household buttermilk is served after meals to improve digestion. This spiced and smoked buttermilk is very refreshing and easy to make. Buttermilk helps to reduce body heat during the hot weather. The smoky-spicy flavour gives the regular buttermilk a unique twist and makes it more appetizing. Beat the heat with this refreshing smoked buttermilk.
Ingredients  
Curd 1 cup

Water 2 cup

Ghee/oil 1/2 tbsp

Cumin Seeds 1 tsp

Mustard Seeds 1/2 tsp

Asafoetida

Hing 1/4 tsp

Curry leaves 5 to 6

Green Chillies 1 to 2

Cilantro 1 tbsp

Mint leaves 1 tbsp

Cumin Powder 1/2 tsp

Black Salt 1/4 tsp

Red Chilli Powder 1/4th tsp

Salt As per your taste
Instructions 
In a Bowl, add curd, water, black salt, salt and cumin powder. Blend it well.

For tempering: Heat up ghee/oil in a small bowl. Once the ghee/oil is hot, add mustard seeds. when the mustard seeds start crackling, add cumin seeds and hing. Then Add curry leaves and green chillies, remove it from the flame.

Now pour the tempering on top of the buttermilk. Add chopped Cilantro and Mint leaves. Mix it well.

For Dhungar( the smoky flavour): Take 1 cube of Coal, hold a cube of coal with tongs on top of a flame.

Now add 1/2 tsp ghee, a pinch of red chilly powder and cumin powder on top of the coal. And once the smoke starts coming out, immediately Cover the lid. Keep it covered for about 2 minutes, so it captures the smoky flavor / aroma.

Now remove the small bowl and give a quick stir. and serve it chilled in a glass.
Notes
"Dhungar"- Dhungar is a technique of imparting a smoky flavour to a dish, when a particular dish has finished cooking, a live coal is taken and it is put into a small bowl then ghee and other spices are poured on it, when it starts to smoke this is put in the middle of the pot, the smoke from the coal must be trapped in the pot by tightly closing the lid.